The hosts of President Donald Trump's favorite morning show claimed Wednesday that they enjoyed Trump receiving laughs from the United Nations General Assembly and praised it as a "great, unscripted moment."
Fox & Friends hosts Brian Kilmeade, Steve Doocy and Ainsley Earhardt each lauded Trump's performance as the international body collectively laughed when he claimed his administration had accomplished more than any other in the country's history.
Kilmeade said he thought the assembly was "having fun" and that he did not agree with the widely held interpretation of the world laughing at Trump and the country.
"I liked the president. I like his comment," Kilmeade said. "I like the reaction and then when he said he wasn't expecting that reaction I liked when everyone laughed afterwards. I was surprised, or should I say not surprised but taken aback by the way other people said 'Oh the world's laughing at us.' I think they were having fun. I think the president made a statement that we're on a roll."
Doocy noted that, clearly, the assembly did not feel the same as Trump, but that the president rolled with the crowd's response.
"And the world body did not agree, and that's why they laugh. But then he had the good sense to make a joke out of it and then there was a little bit of laughter," Doocy said.
"I thought it was great because it was very real," Earhardt said before Kilmeade wrapped up by stating that it was a "great, unscripted moment."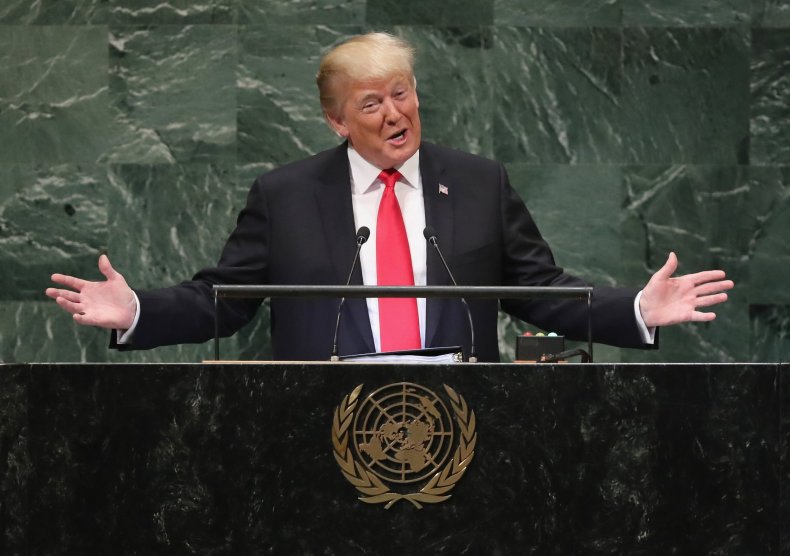 Trump opened his speech Tuesday by boasting about his administration, but the crowd did not appear to share the president's opinion.
"In less than two years my administration has accomplished more than any almost administration in the history of our country," Trump said as the laughs started.
The president, used to cheers when rolling off the same line at his rallies, was briefly taken aback before pivoting back to his speech.
"So true. Didn't expect that reaction," Trump said as the laughs became louder before he delved into more of his boasts from campaign rallies such as tax cuts.
The hosts appeared to have a far different interpretation than most others, though the program and Fox News has received criticism for its praise and overall coverage of the Trump administration.
The way in which Fox News initially covered the laughter at the United Nations—at least on social media—also received some scrutiny. Washington Post senior political reporter Aaron Blake pointed out that the network sent out two separate tweets with video clips that cut out the laughing.
Trump said later Tuesday that he meant to get a laugh despite saying during the speech that he did not expect the reaction.