Fox News Hosts Create CNN, Mueller Conspiracy Theory Surrounding Roger Stone Arrest, Demand Investigation
Fox News hosts past and present are touting a meta cable news conspiracy theory claiming special counsel Robert Mueller tipped off CNN prior to Roger Stone's Friday arrest.
Sean Hannity and Jeanine Pirro are touting a baseless accusation first concocted on Twitter by former Fox News host Greta Van Susteren that their rival cable news network CNN was "obviously tipped off" by Mueller's office in cahoots with the FBI. Van Susteren later apologized and recanted the claim, but right-wing news media immediately pounced on the chance to rip the alleged "fake news" collusion. President Donald Trump also jumped on the allegation despite CNN producer David Shortell saying they'd placed reporter crews in front of Stone's Fort Lauderdale, Florida, home after committing an act of journalism and following up on particularly busy grand jury activity.
Hannity lamented what he saw as a dramatic show of force by federal authorities at Stone's house Friday morning because the longtime Trump confidant is only accused of "process crimes," rather than violent crimes. But he was particularly angry that CNN journalists were on the scene to report the arrest.
"CNN cameras were at the raid of Roger Stone..so FBI obviously tipped off CNN...even if you don't like Stone, it is curious why Mueller's office tipped off CNN instead of trying to quietly arrest Stone; quiet arrests are more likely to be safe to the FBI and the person arrested," former longtime Fox News host Van Susteren floated on Twitter Friday morning, soon after Stone's arrest on charges of obstruction, witness tampering and providing false statements.
Just hours later on Friday, Van Susteren said she was "wrong to think CNN acted on a tip" and instead directed her Twitter followers to simply follow the arrest of Stone and not conspiracy theories about cable network coverage.
But Fox News hosts and dedicated Trump supporters Pirro and Hannity both capitalized on the theory on their respective programs this weekend, using the debunked claim to label the special counsel as "partisan investigators." Hannity said allies of the president should be careful because support for Trump in 2019 can "get your door kicked down in the middle of the night and hauled away in handcuffs — all while CNN films it all."
"We are witnessing the biggest abuse of power, scandal, in modern American history, it's playing out right before your eyes — more corruption than we've ever seen," Hannity told his viewers Friday evening in classic theatric fashion. "Really? A pre-dawn raid, 17 vehicles move in, 27 FBI in full SWAT gear. Guns drawn, home surrounded. For what?
"Naturally fake news CNN, they were there," Hannity continued. "They captured the whole thing. Wow, how did they know the exact timing of this?
"Somehow the networks fake news so-called journalists knew exactly when and where the raid would go down and the time it would happen," he went on. "Well, couldn't be, could it? Did one of, maybe, somebody in Mueller's office, maybe one of the partisan investigators, I don't know, did they tip off their favorite fake news network."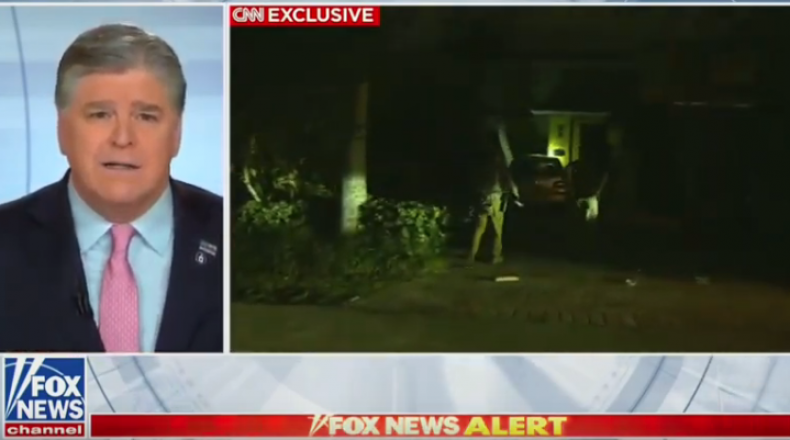 Pirro's Saturday show, Justice With Judge Jeanine continued the conspiratorial attack on their cable news competitors, using dramatic details to paint Stone as a victim of a well-planned plot involving the FBI, Mueller and CNN. Pirro rejected the earlier explanation by producers they had followed "unusual grand jury activity" and demanded the network admit they were collaborating with investigators.
"Unusual grand jury activity?" Pirro asked her viewers Saturday. What do you know about the activity of the grand jury? What do you know about when they meet or if their schedules change? Does all unusual grand jury activity suggest indictments are being handed up?"
Both Pirro and Hannity demanded a meta investigation of who was leaking information about the investigation. "Maybe another investigation into more leaking the details of an ongoing investigation?" Hannity wondered aloud on national television. "By the way that's a serious crime. I wonder if these leakers, are they ever going to face justice?"
Pirro continued: "Admit it. You had a call from them. You are not kidding anybody. It's a crime for whomever alerted you to alert you. Although, I suspect Mueller won't give a damn."
This is far from the first time the Fox News hosts have ridiculed or undermined federal authorities in order to defend Trump. Van Susteren, who hosted her own program on the network for 14 years, later acknowledged on Twitter right-wing news outlets were ignoring her pull back of the initial CNN conspiracy claim. "People are cherry picking my tweet.., yes, the first one was wrong but check the others that corrected it and get a full picture."
Trump also joined in the tar and feathering of CNN, tweeting late Friday morning, "Greatest Witch Hunt in the History of our Country! NO COLLUSION! Border Coyotes, Drug Dealers and Human Traffickers are treated better. Who alerted CNN to be there?"
Fox News Hosts Create CNN, Mueller Conspiracy Theory Surrounding Roger Stone Arrest, Demand Investigation | U.S.