Fox News Hosts Lament Migrant Mother Giving Birth On U.S. Soil
The Fox News trio of hosts on Fox & Friends were visually frustrated while discussing an AP story Thursday about a 19-year-old Central American migrant giving birth on U.S. soil.
Fox & Friends co-hosts Steve Doocy, Ainsley Earhardt and Brian Kilmeade took on a bitter tone after bringing up the November 26 arrest of a Honduran woman who was eight months pregnant when apprehended at the U.S. border. The Fox News hosts discussed the Associated Press story detailing how Maryury Serrano Hernandez, 19, gave birth to a child while in custody. All three hosts lamented how the child of the Central American woman is now an American citizen as they touted President Donald Trump's tough stance against immigration.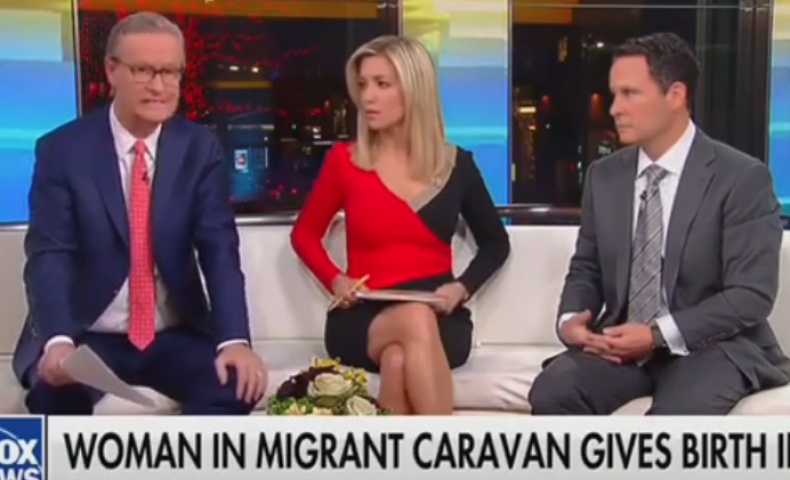 "A couple of days ago, apparently, one of the members of the migrant community there in Tijuana climbed over the border fence," Doocy explained. "And landed on the American side and she was eight months pregnant and she was arrested along with some others. And then she had the baby here on American soil and the baby now, according to law, is an American citizen," he added with disappointment.
Switching his tone from dreary to cheery, Doocy attempted to find a bright side of the story as Kilmeade and Earhardt looked on with solemn expressions.
"She did say that her dream was to come to the United States, and do that, and be reunited with her family in Columbus, Ohio. And she said that giving birth on U.S. soil was a 'big reward' for the long journey all the way from Honduras," Doocy continued.
Not missing a beat, Brian Kilmeade shifted the conversation away from the woman's birth of a child and toward Trump's views on "the debate about birthright citizenship."
"It's the law," Doocy chimed in, before a visibly annoyed Ainsley Earhardt quickly interjected: "The president's not for it, he says it's ridiculous, and he wants to sign an executive order to end it."
Kilmeade then turned toward the camera to personally address one of the show's most dedicated fans.
"If you're the president of the United States and you want to show people what I was saying from 2016 to today -- and that is building the wall and getting security is a major issue in America -- what is playing out right now is exactly what the president said. It is chaos on the border, they need help, they need a barrier. And I think he's going to go to the mat to get his $5 billion," Kilmeade said.
In another futile attempt to soften the tension the three worked themselves into, Earhardt finally explained the outcome of the Honduran woman's arrest.
"Well that 19 year old that gave birth, she was released from custody pending her immigration case and her family was released as well, because of the 'catch and release,' her child is now an American citizen."