Fox News Hosts Mocked Boy With Autism Who Asked Pence for Apology (And Have Now Apologized)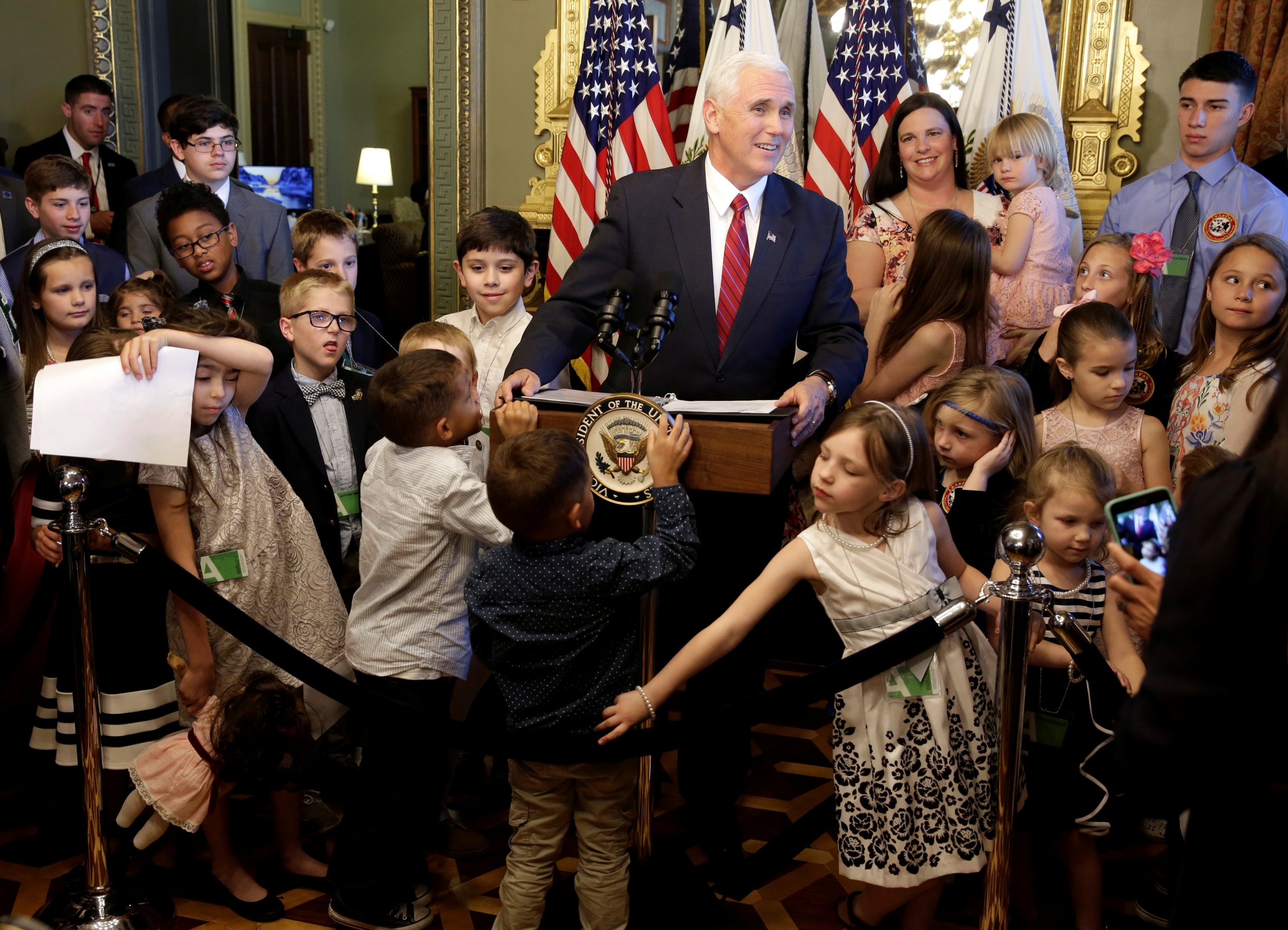 After footage of a child playfully demanding an apology of Vice President Mike Pence after an accidental blow went viral, Fox News commentators mocked the child for being a so-called "snowflake." The mother of the child asked Monday that Fox News issue an apology, noting that her 10-year-old boy is on the autism spectrum and has been taught to practice social interactions. By Tuesday morning that apology had come.
"I guess we're giving birth to snowflakes now, because that looked like that kid needed a safe space in that room," radio personality Tammy Bruce said last week on Tucker Carlson Tonight about the viral incident that occurred during an event honoring military families.
"Is this a different time or not?" questioned guest host Bill Hemmer.
"It is a bit, the 8-year-old pretty much stalked the vice president afterwards. He wasn't even—the headlines said he was 'hit, he was struck, he was smashed, he was bumped,'" Bruce said. "The fabric on his sleeve touched his nose maybe. He stalks the vice president, says, 'you owe me an apology'...This is crazy. Now look, he's seen it either on television, maybe he's seen it at home perhaps, but he felt aggrieved."
Hemmer added that he thought someone probably taught him how to demand an apology. But the boy's mother, Dr. Ingrid Herrera-Yee, appeared on CNN's The Lead hosted by Jake Tapper to refute the Fox News characterization of the moment that went viral because it was cute.
"Michael is 10 years old, he is on the autism spectrum, he's a military child and he loves the White House, he called it the people's house," Herrera-Yee said to Tapper. "For those who don't have a child with autism, they need to really rehearse and a lot of their therapy involves practicing social interactions."
Herrera-Yee, who noted the vice president was wonderful in how he handled the situation, said Michael was being a "champ" and doing what he thought was the right thing. "It's not meant in any sort of negative way, it's him learning the social interaction with someone else," she said on CNN.
Herrera-Yee said she was alerted about the Fox segment by her mother, who had seen a teaser for the segment. "I was excited, I sat down with my coffee and started watching. Then suddenly it just went south," she said. "I was devastated when I saw what they were saying. People who—they didn't even know his age. They didn't know who he was, but really taking out of context a really innocent interchange between the vice president and my son."
She added that it hurt her 15-year-old son, as well. He saw the blow-back online and answered some of the negative comments but got attacked for it.
"How can we fix this, what do you want to be done?" Tapper asked.
"First, I want people to be more aware of autism," Herrera-Yee answered. "Second, just like Michael asked the vice president sweetly for an apology, I want to ask on his behalf for Fox News to apologize for having used my son out of context and using those really horrible words to describe him and our family."
Bruce apologized for her comments calling the 10-year-old a snowflake Tuesday morning on Fox's America's Newsroom. "I am so sorry to the family," Bruce said. "My intention was never to hurt a kid or his mom, we had absolutely no idea that Michael was on the autism spectrum... A main lesson here, no matter intent, is to leave kids out of our political discussions."