Fox News Hosts Neil Cavuto and John Roberts Blindsided by Shep Smith Departure Announcement
In a clip posted by journalist Nicole Lafond, Fox journalists seem to be completely surprised by Shep Smith's announcement that he's leaving Fox News. Both men appeared to have little to no prior warning of Smith's announcement before he went to air.
In the clip, Neil Cavuto paused, blinking at the announcement. "Wow," he said. "I'm Neil Cavuto. Like you, I'm a little stunned. I'm a little heartbroken." He shook his head.
"I don't know what to say. Shepard Smith. As I said just a few days ago on this very network: a decent human being, a heart as big as Texas—I didn't say Texas at the time, maybe just all of Manhattan. Wow. I don't know. A better newsman you probably cannot find. A bigger, more emotionally connected to humankind you cannot find."
"So, Shepard, I don't know what the heck you're planning to do, or where you'll go, I just know you'll be great at doing it. And you deserve the best that life has to offer."
To the audience, Cavuto said, "So I'm sorry if I'm a little shellshocked here, but I'm going to miss my buddy. Alright, on to the news at hand, as Shep would say."
Cavuto then introduces an upcoming piece on President Trump's trade agreement with China.
When he goes to John Roberts for comment, apologizing for being shellshocked, his fellow performer is clearly flummoxed as well.
"I've just been trying to compile my thoughts, too," Roberts said. "Neil, I walked out here to do The Hit and and suddenly got hit by a subway train. Holy Mackerel! Let's try to get to the news at hand as I try to digest the other news that we just heard, oh my God, it's completely shocking."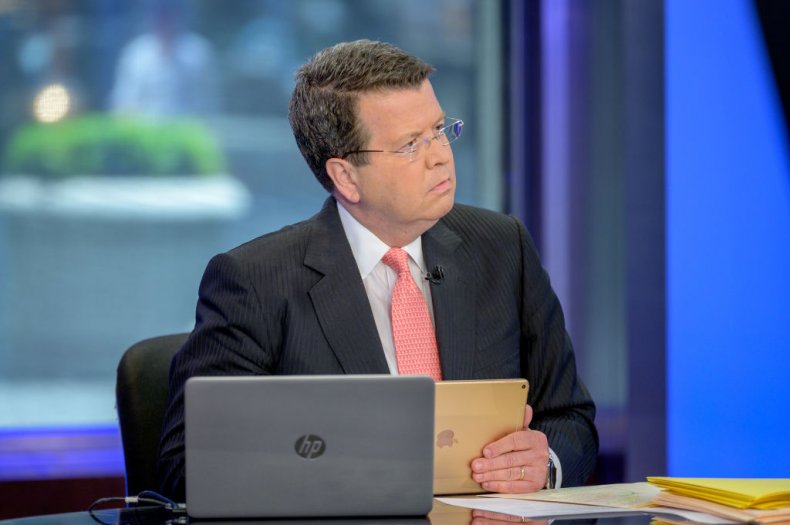 Shepard Smith stepped down from his position as chief news anchor with Fox News after 23 years just minutes before Cavuto went on air.
"Recently, I asked the company to allow me to leave Fox News," Smith said to his audience at the end of his regular broadcast, Shepard Smith Reporting. "After requesting that I stay, they obliged."
Smith is leaving the news network in the middle of his current contract. On the air, he said that he "I won't be reporting elsewhere at least in the near future" because of his apparent signing terms.
"Even in our currently polarized nation, it's my hope that the facts will win the day. That the truth will always matter. That journalism and journalists will thrive," Smith said.
He's been with Fox News since 1996.