The hosts of Fox News morning show Fox & Friends praised Democratic presidential candidate Tulsi Gabbard on Wednesday morning, saying that they hoped she'd qualify for the upcoming debate and that her recent criticism of former Secretary of State Hillary Clinton "made her look so good."
Gabbard has hit back hard after Clinton, who was the Democratic presidential nominee in 2016, said during a podcast last week that the Hawaii congresswoman was "the favorite of the Russians." Analysts have noted since early this year that Russian state media, such as RT and Sputnik, have spoken favorably of Gabbard and discussed her more than other candidates, which could be the reason Clinton made the claim.
In response, Gabbard has publicly attacked Clinton, calling her the "queen of warmongers." She also challenged her to "join the race directly" and said, "It's now clear that this primary is between you and me." An average of national polls by Real Clear Politics shows Gabbard is polling at about 1.3 percent, or 10th place in the Democratic field overall.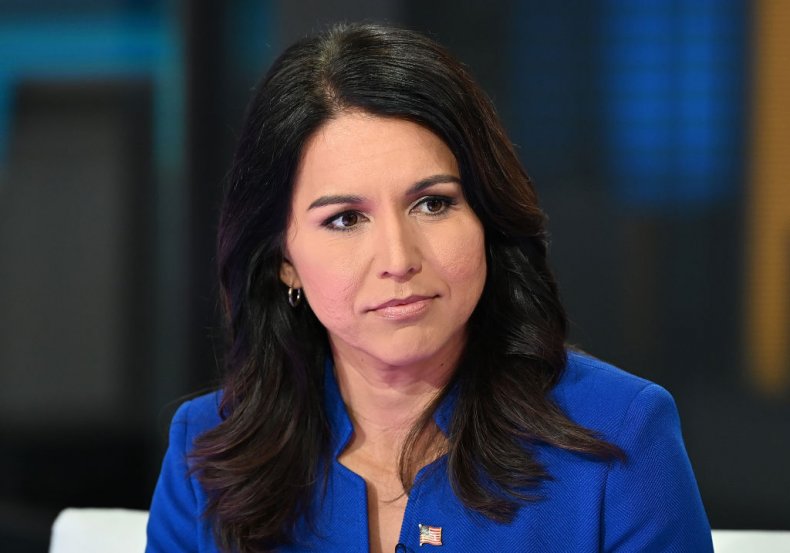 The Fox & Friends hosts have apparently been impressed by Gabbard's criticism of Clinton.
"Hillary Rodham Clinton said that that woman, screen right, was a Russian asset, essentially, favorite of the Russians and Russians were grooming her to be a third party spoiler candidate in 2020," co-host Steve Doocy said during the Fox morning show. Clinton did not actually call Gabbard "a Russian asset," but she did use that term to describe former Green Party presidential candidate Jill Stein during the same interview.
"They were both supposed to be at the same place, and Hillary Clinton canceled. And by the way, Tulsi Gabbard said, 'I would have been very happy to have had that conversation directly with her face to face,'" Fox & Friends co-host Brian Kilmeade noted.
"And as a major in the military, who volunteered to go to the Middle East, I sense that she means it," he added.
Co-host Ainsley Earhardt then jumped in, saying, "This was putting [Gabbard] on the map."
She went on: "When she had that message for Hillary, [it] made her look so good. and I think she's running with this. She's taking advantage of it."
Kilmeade then explained that Gabbard had not yet qualified for the upcoming debate. "Hope this puts her over the top, because she always makes it interesting," he said.
The central theme of Gabbard's platform is an end to U.S. involvement in "endless wars." The congresswoman is a veteran of the Iraq War and continues to serve as a major in the Army National Guard. In August, she took a two-week break from her presidential campaign to deploy overseas for a joint training exercise with the Indonesian military.
Gabbard has faced criticism from many in her party for meeting with Syrian President Bashar al-Assad in 2017. The Middle Eastern leader is widely accused of committing war crimes against his own people and considered a foe of the U.S., but he is closely allied with Russia. The congresswoman has been highly critical of U.S. involvement in the ongoing Syrian civil war. Many have also noted that Gabbard has been praised by far-right figures and is popular within far-right internet groups. However, she has disavowed this support.
From 2013 to early 2016, Gabbard served as vice chair of the Democratic National Committee. She resigned from that position to endorse Clinton's rival for the party's nomination, independent Senator Bernie Sanders of Vermont. According to Politico, that was the moment when tensions began to flare between Gabbard and Clinton.
Several leading 2020 presidential candidates have defended Gabbard against Clinton's criticism, which has been repeated by other Democrats and political pundits.
"Tulsi Gabbard has put her life on the line to defend this country. People can disagree on issues, but it is outrageous for anyone to suggest that Tulsi is a foreign asset," tweeted Sanders, a leading contender for the 2020 Democratic nomination, on Monday.
Mayor Pete Buttigieg of South Bend, Indiana, another Democratic candidate who is a veteran, dismissed the criticism of his political rival.
"I don't know what the basis is for that," Buttigieg told CNN on Sunday. "But I consider her to be a competitor. I respect her service. I also have very different views than she does, especially on foreign policy, and I would prefer to have that argument in terms of policy, which is what we do at debates and what we're doing as we go forward."