Fox News Hosts Repeat Trump's Bizarre Rally Claims About Shower Pressure Restrictions: 'Trump Will Allow You to Take a Shower in Seven Seconds'
Roughly one hour before Democrats took the debate stage in Iowa, President Donald Trump took another stage in the neighboring state of Wisconsin, at his first campaign rally of 2020.
Trump discussed his record on trade, defended the strike that killed Iranian General and U.S.-recognized terrorist Qasem Soleimani and criticized former Vice President Joe Biden—but also dedicated some of his time in Milwaukee to disparaging restrictors that limit water flow from shower heads.
Fox and Friends hosts Steve Doocy, Ainsley Earhardt and Brian Kilmeade repeated some of Trump's passionate rebuke of below-average water pressure Wednesday morning, and briefly debated whether the strategy resonated with the rally's many thousands of onlookers.
"And the crowd goes wild because if re-elected, Donald Trump will allow you to take a shower in seven seconds," Doocy said.
"Full shower flow, and bring back the light bulbs," Earhardt responded. In addition to showers, Trump also complained about light bulbs that make people "look orange" and "worthless" new dishwashers that, again because of water pressure issues, require multiple sessions of dish-rinsing, according to footage of the event.
"Do you think that resonates, by the way?" Kilmeade asked his colleagues, to which Doocy responded, perhaps sarcastically: "Absolutely. Everybody showers. Everybody complains about the light bulbs."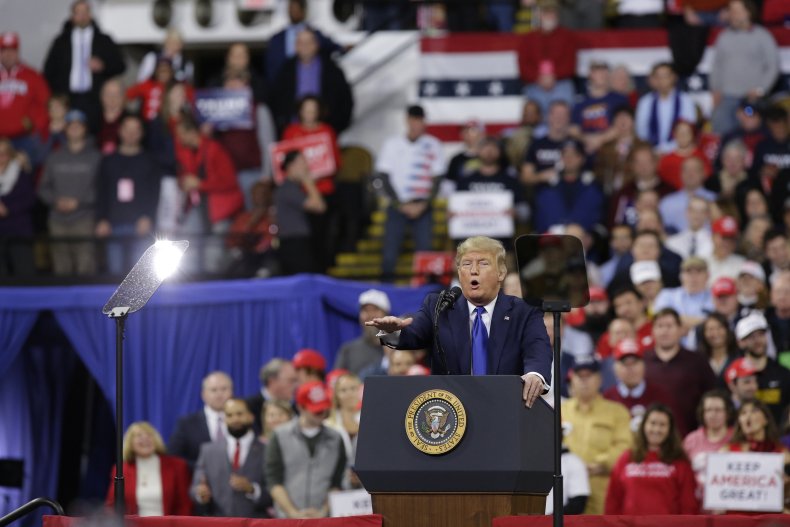 Last night's rally at the University of Wisconsin-Milwaukee Panther Arena drew up to 12,700 people, according to the venue. It featured Vice President Mike Pence, traffic jams and mostly peaceful protests between students and Trump supporters, according to the Milwaukee Journal Sentinel.
Trump appeared to delight the crowd when he shifted the conversation from politics to plumbing.
"Sinks, toilets and showers—you don't get any water," Trump said from behind the podium. "They put restrictors on them, and now they've made 'em permanent."
"You go into a shower, and I have this beautiful head of hair. I need a lot of water," the president continued, while rally attendees erupted into laughter. "And you go into the shower, right? You turn on the water. Drip, drip, drip. I call the guy. 'Is something wrong with this?' 'No sir, it's just the restrictor.'"
"So you're in there five times longer than you're supposed to be," he concluded. "You use probably more water, and it's a very unpleasant experience."