Fox Guest's Claim That NBC Censored Cuomo Criticism Debunked by Videos
Dawn Best, whose mother died of COVID-19 in a New York nursing home, told Fox & Friends Monday that NBC News asked her to not name Gov. Andrew Cuomo in her criticism. However, footage from the full interview appears to tell a different story.
Best's claims were first surfaced by Janice Dean, a senior meteorologist for Fox News, over the weekend.
"She wanted to say 'Governor Andrew Cuomo failed us' in the interview and they told her to say 'New York failed us' instead," Dean tweeted Saturday. "The mainstream is still protecting this guy. Disgusting."
In a follow-up tweet, Dean criticized NBC News, along with NBC Nightly News anchor Lester Holt and Today, the network's morning news show.
"Shame on you Lester Holt, NBC News, Today Show," Dean said. "New York state did not fail us. The governor, his administration and his health department failed us. You are a disgrace to all families. Just like Governor Andrew Cuomo."
Best appeared on Fox & Friends on Monday morning to share her allegations herself.
"So what happened specifically on that show was I was telling them that Governor Cuomo failed us, his book should be named—not Lessons in Leadership, it should be 'Lessons in Failure.' [NBC News reporter Kristen Dahlgren] stopped me and she said to me, can you say that a different way without Governor Cuomo's name and just say, New York failed you? So I had no choice. I had to say New York failed me," Best told Fox & Friends cohost Brian Kilmeade.
Despite Best's claims, the segment that she was apparently referring to, which aired on NBC Nightly News on Thursday, was highly critical of Cuomo. It included a clip of Best saying "a third-grader would have known not to send COVID patients into nursing homes," referring to Cuomo's March executive order requiring nursing homes to re-admit residents who were still recovering from COVID-19.
The segment ended with an image of Best holding up a sign saying "Cuomo killed my mother."
However, on Monday, Mediaite ran a story saying it had obtained a video of the full interview, which was between Best and NBC reporter Kristen Dahlgren, from an NBC source. According to Mediaite, the footage showed that it was Best who asked to re-do the answer to the question "How big of a failure do you think New York's response was to COVID when it comes to nursing homes?"
Best initially responded: "Governor Cuomo has written a book Lessons in Leadership. He knew that the numbers were twice as high. And he was hiding it. And he was hiding it because what we're gonna find out and we're finding out is that New York state had was such a failure."
According to Mediaite, Best then said, "I didn't say that as well as I could. If you want to ask me a different way, I could."
In response, Dahlgren rephrased her question and asked, "Did New York state fail your mother?" Best answered, "New York state failed my mother and failed thousands of people's mothers and fathers."
Cuomo has faced backlash in recent weeks following a report from New York Attorney General Letitia James that found the state underreported coronavirus deaths in nursing homes by as much as 50 percent.
Dean, who lost both her in-laws to COVID-19 in New York nursing homes, has been publicly critical of Cuomo and his coronavirus response, claiming that "deaths of thousands of seniors who died from COVID in New York state could've been prevented," in a January 4 op-ed published by Fox News.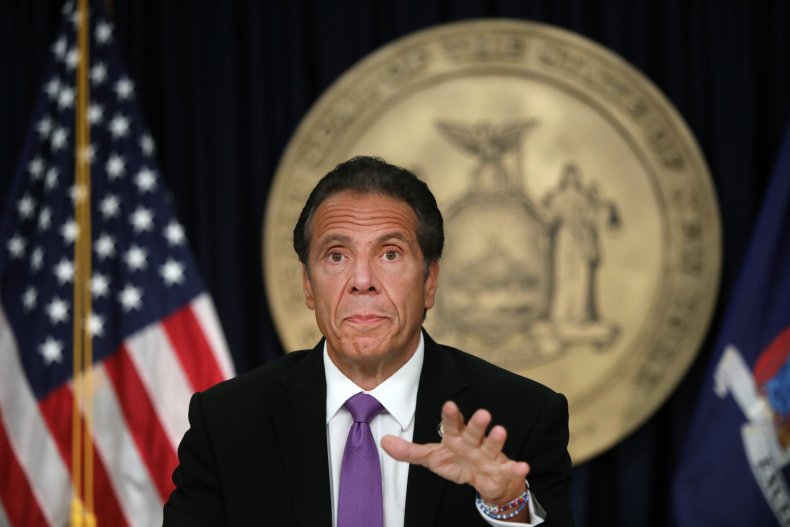 Cuomo has since defended New York's coronavirus response. He said the state's health department followed guidance issued by the federal government, including the Centers for Disease Control and Prevention.
"So, if you think there was a mistake, go talk to the federal government," Cuomo said during a news briefing on January 29. "It's not about pointing fingers or blame. It's that this became a political football."
Newsweek reached out to Cuomo's office, but didn't hear back in time for publication. NBC referred Newsweek to the segment.
Correction (2/1/2020, 11:00 p.m.): This story and headline have been updated to show the claim has been debunked. An original version of this story focused on Janice Dean, it has been updated to reflect Dawn Best's Fox & Friends interview.