Fox News' Jeanine Pirro Tells Tucker Carlson Dems are Allowing 'Illegals' to Kill Americans Because They 'Want Power'
Fox News host Jeanine Pirro said that Democrats are "going to let the illegals in" because they want "power," while discussing the aftermath of the impeachment trial of President Donald Trump with Tucker Carlson on his Fox News program Wednesday night.
Former New York prosecutor Pirro also said that undocumented immigrants might also "kill a few Americans."
"Who do these Democrats think they are?" Pirro asked. "They are so transparently transparent. All they're interested in is not you, the American people, not blue collar successes. 'We want power.'"
"'So we're going let the illegals in,'" Pirro continued. "'And, you know, if they kill a few Americans, you know, you'll deal with it. What we want is power.' And you know what? That is going to, in the end, defeat [Democrats] as well it should."
Newsweek reached out to the Democratic National Committee for comment but did not receive a response in time for publication.
Trump has been criticized by Democrats for his immigration policies, particularly his stance on health care for undocumented immigrants.
Currently, undocumented immigrants are not eligible to purchase health insurance coverage through the government-run Marketplace. However, they can apply for health care coverage on behalf of individuals with the correct documentation.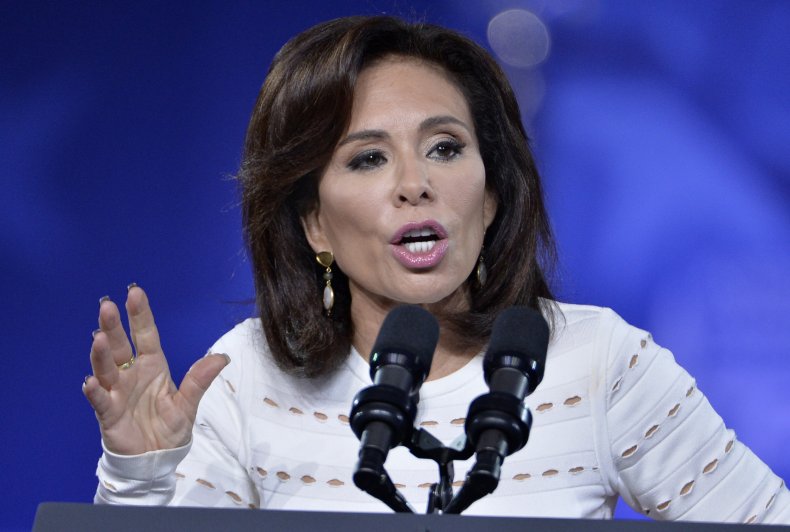 During his State of the Union address Tuesday, Trump said that providing medical assistance to "illegal aliens" would "bankrupt our nation."
"These proposals would raid the Medicare benefits our seniors depend on, while acting as a powerful lure for illegal immigration," Trump said. "If forcing American taxpayers to provide unlimited free healthcare to illegal aliens sounds fair to you, then stand with the radical left. But if you believe that we should defend American patients and American seniors, then stand with me and pass legislation to prohibit free government healthcare for illegal aliens!"
Many of the Democratic presidential candidates support the idea of enrolling undocumented immigrants into a health plan program run by the U.S. government.
Democratic presidential candidate Vermont Senator Bernie Sanders, sponsor of the "Medicare for All" plan, told a Pasadena rally crowd in June 2019 that the U.S. has to "join the rest of the industrialized world and guarantee health care to all, including the undocumented."
"If you are a human being, regardless of your immigration status, you have a right to health care. #MedicareForAll," Sanders tweeted.
Massachusetts Senator Elizabeth Warren co-sponsored Sanders' legislation.
Former South Bend, Indiana Mayor Pete Buttigieg espouses a "Medicare for All Who Want It" health care plan, which would allegedly include more services than the Medicare system currently in place.
"That needs to be available to everyone," Buttigeig said in June 2019. "There needs to be a way for people of any immigration status to participate."
Former Vice President Joe Biden told CNN in July 2019 that undocumented immigrants should be able to receive emergency health care.
"How do you say, 'You're undocumented, I'm gonna let you die, man?'" Biden said.