Fox News' Jesse Watters Says DTLA Is Filled With 'Drugged-out Zombies' Living In Piles Of Garbage, And City Should Bulldoze Area
Fox News host Jesse Watters offered his solution to combat the problem of homelessness, disease and rodents in downtown Los Angeles on Monday, closing a segment on The Five about the growing problem by calling for the city to bulldoze the area.
The segment began with one of the show's co-hosts, Juan Williams, describing the situation in Los Angeles, on the heels of a report from the Los Angeles Times.
The Times' report highlights concerns from some city officials and CatsUSA Pest Control, a company hired by the city to determine steps to control the pest situation near City Hall. A December 28, 2018 report from CUSA, which was obtained by the Times, warns that the homeless population is a "harborage for rodents," and that the company's walk-through revealed unsanitary conditions which included members of the homeless population defecating and urinating on city grates. Individuals living in the tent cities were also using the grates to deposit garbage, including hypodermic needles and leftover food, the report said.
According to the Times, the report recommended that the city remove the homeless population living in the City Center.

Watters began by placing the problem at the foot of liberal Democrats, saying that the Democratic Party has controlled Los Angeles for years and they can't blame President Donald Trump for this problem.
"They have allowed this thing to fester because they allow anything to happen, and now it's a radius, a 50-block radius, and they thought they had it contained, but now, it's started to infect other people. People go in to this place, but they don't come out," Watters said. "I went in there one time with a camera crew, and we just drove around, and we wouldn't leave the car because it was so dangerous. We saw drugged-out zombies chasing barefooted babies through piles of garbage with hypodermic needles and fire everywhere. It was the most depraved and disgusting thing I've ever seen in my life..."
Watters went on to say that the solution for LA city officials should be to "bulldoze the 50-block radius, and you institutionalize everybody and detoxify them, and then you let them out."
Watters comments closed the segment where Williams opened by referencing a press release issued over the weekend from the Los Angeles Police Department that said an officer who patrols in the City Center has contracted the bacteria that causes typhoid fever and that a second employee is displaying typhoid-like symptoms.
"I think what is paralyzing these cities in part is the war between compassionate care approaches," co-host Emily Compagno said later in the segment after Williams referenced a tweet from California Governor Gavin Newsom.
"California's what happens when rights are respected. When work is rewarded. When nature's protected. When diversity is celebrated and free markets are fair markets. We are nothing less than the progressive answer to a transgressive President," the governor tweeted on Monday afternoon.
"Newsom represents just a small sliver of competing theories for how to fix these problems and the result is we have continued succession of short-term bandaids," Campagno said, citing policies used in other cities where city officials constructed outdoor toilets or removed the homeless from the streets each day at 6 a.m. and cleaned the streets, only for them to return later in the day. "It's mowing the lawn to the detriment of not only the homeless, 80 percent of whom are drug-addicted and over 60 percent of whom are mentally ill and also the constituents."
Gutfeld followed up to say that Dr. Drew Pinsky predicted that an outbreak like this would occur, adding that he's "pretty sure" Pinsky said that the next disease that would come out of the overrun of rodents would be the plague, "because of the fleas that are on rats."
Pinsky did make such a statement, appearing last week on another Fox News show, The Ingraham Angle.
"We have complete breakdown of the basic needs of civilization in Los Angeles right now. We have the three prongs of airborne diseases; tuberculous is exploding, rodent fleas. We are one of the only major cities in the country that does not have a rodent control program," Pinsky told Fox News host Laura Ingraham. "Sanitation has broken down. We had a typhus outbreak last year, we will have typhus this summer. I'm hearing from experts that bubonic plague is likely, it's already here, it will get onto the rat fleas."
"I can't believe I live in a city where — this is not third-world, this is Medieval. Third-world countries are insulted if they are accused of being like this. No city on earth tolerates this. The entire population is at risk. And God forbid is measles. This is a population that's suboptimally immunized. If measles gets in, I just have an image of myself on my knees in the gutter tending to people," he said.
Continuing his comments, Gutfeld called for politicians in California to make a distinction between the members of the homeless population who need help and the others who are "young, odious grifters who capitalize on compassion for the suffering" and the "vagrants, hustlers and bums who portray themselves as down and out."
Williams then referred to co-host Dana Perino who said that America has the "will and the means and the resources to deal with this problem," but that politicians are not moving to do anything.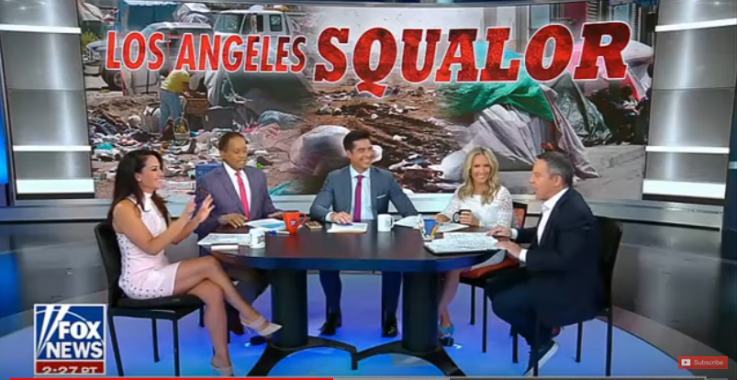 Fox News' Jesse Watters Says DTLA Is Filled With 'Drugged-out Zombies' Living In Piles Of Garbage, And City Should Bulldoze Area | News