Fox News host Tucker Carlson looked to drive a wedge in Democratic Party candidate support, bringing on two-time Green Party presidential nominee Jill Stein to defend third-party candidacies.
Carlson claimed a recent swarm of opposition to former Starbucks CEO Howard Schultz running as a 2020 independent is an insult to democracy. When asked why "the party of diversity" was not seeking more diverse views, Stein, 68, said Tuesday both the Republican and Democratic parties' binary stranglehold on the electorate meant they have the same "corporate masters; the fossil fuel giants and the big banks, Wall Street and the war machine." Stein also touted the concept of ranked choice voting as a way to keep Americans from not voting for one candidate simply out of fear of another candidate winning.
Carlson then lectured the Democratic Party on being more sure of their potential candidate who will face off against President Donald Trump in 2020. "Yea, you might want to do that! Maybe, get some ideas that appeal to actual voters, something like that."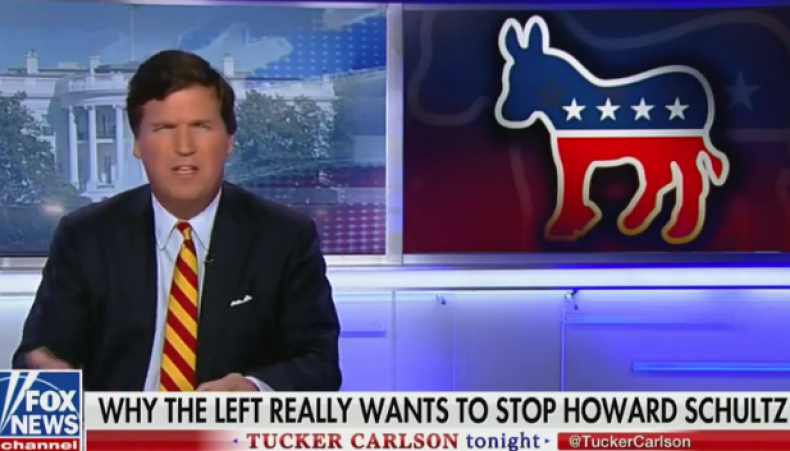 The Fox News host referenced a previous guest from his show and another celebrity billionaire, Mark Cuban, who tweeted out a warning to Democrats Tuesday, "If 21 months before an election you don't believe your candidate's platform is strong enough to win an election with independent candidates, you might want to rethink who you support."
The Green Party candidate received 1,449,370, or about 1 percent, of the overall vote in the 2016 presidential election. Another third party, the Libertarians, received 4,492,919, or about 3.3 percent of the overall vote during the same election. Although Trump won the Electoral College, Hillary Clinton received the most total votes with 65,844,969 versus Trump's 62,979,984.
Stein repeatedly supported Schultz's right to run, which has been widely ridiculed by establishment Democrats and potential candidate Michael Bloomberg, who said he would run as a Democrat -- if he runs at all -- at the risk of splitting the Democratic Party votes by running as an independent. Stein repeatedly called for more primary and ballot options, instead of forcing Americans to vote for either Republicans, Democrats or not at all.
"Can we have choices or do we have to force people into two pigeon holes?" she asked. "We want more choices and we can have it, so let's not keep that a secret."
Carlson's completely transparent attempt to tout a billionaire independent candidate at the expense of Democratic challengers to Trump saw him even claiming left-wing voters "accuse [third party candidates] of being Russian agents if they have a different view." Although there has been chatter from Republicans such as former Ohio Gov. John Kasich about challenging Trump in a 2020 primary, no one has officially stepped up to the plate.
The Harvard Medical school graduate said she herself is not currently planning on running in the 2020 presidential election.