Fox News' Judge Napolitano Accuses Trump of 'Tyranny,' Raising Taxes Illegally
Fox News Channel's Senior Judicial Analyst Judge Andrew Napolitano accused President Donald Trump of unconstitutionally misappropriating funds for his border wall from federal money Congress did not approve.
Former Superior Court of New Jersey Judge Napolitano labeled Trump a "president who spends unappropriated funds, raises taxes, defies courts and changes immigration laws on his own." Writing an op-ed for the Fox News website Thursday, Napolitano laid out how only Congress can authorize the taxes – Trump calls them "tariffs" – and allocate the funds that he used anyway on his Southern border wall. Napolitano's piece details several ways in which he believes the power of the executive branch has been abused for decades and is now being taken advantage of by a president determined to maintain office at all costs.
The scathing opinion piece was penned by a Fox News personality the president once reportedly considered for a Supreme Court position.
In regard to the border wall, Napolitano wrote, "After Congress expressly declined to give him that money, Trump signed into law – rather than vetoed – the legislation that denied him the funds he sought and then spent the money anyway."
And addressing Trump's so-called "tariff" war with countries like China, he argues, "The question regarding presidential power has also been asked with respect to Trump's imposition of sales taxes – Trump calls them tariffs -- on nearly all goods imported into the United States from China. These are taxes that only Congress can constitutionally authorize."
Napolitano's "The temptation of tyranny" piece published Thursday says Trump's abuse of presidential power is "not an academic one" and has come up in several prior administrations. But Trump's "audacious employment" of his presidential powers has opened up a slew of new questions – and kept many Republican members of Congress silent on others.
Napolitano reiterated how former conservative Supreme Court Justice Antonin Scalia touted the federal government's separation of powers – Congress would write the laws. The president would enforce them. The judiciary would interpret them – as the single most important aspect to uphold about the country's establishment.
But now Trump has taken on the powerful role of combining all of those powers into his one office.
"After years of faithless Congresses legally but unconstitutionally ceding power to the presidency, we have arrived where we are today," Napolitano wrote. "[T]he Republicans who rejoice in this will weep over it when a Democrat is in the White House. No president should have unconstitutional powers."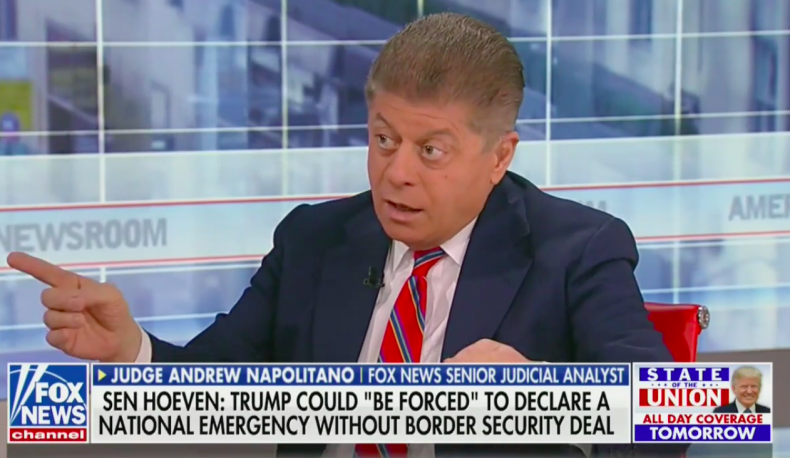 Napolitano has long echoed many of these executive power overreach claims and historical rundowns, particularly against Trump and former President Barack Obama. In May, Napolitano floated the same criticism that Congress said "no" to Trump adding miles to his border wall before the president proceeded to divert funds from the Defense Department.
Trump reportedly ordered Acting Secretary of Defense Patrick Shanahan to send Treasury Department funds over to fund the president's border wall instead of purchasing a missile defense system.
Napolitano routinely points to early 20th Century U.S. President Woodrow Wilson's "broad expansive view" of the office of the president for the reason behind the public, the media and Congress "looking the other way at presidential constitutional violations."
Several members of Congress also accused Trump of misappropriating funds, with Illinois congressman Dick Durbin tweeting Wednesday, "President Trump finds $3.6 billion in loose change in our Defense budget to divert to his almighty wall. A question: shouldn't our military come first before a promise at a campaign rally?."