Fox News Judge Disagrees With Dershowitz's Trump Impeachment Defense: 'That's The Opposite of What He Said Last Time'
Fox News senior judicial analyst Andrew Napolitano disagreed with the argument from President Donald Trump's defense attorney Alan Dershowitz's that even if the president did what people accuse him of doing, without a criminal element, the conduct didn't rise to the level of impeachable.
"That's obviously the opposite of what he said the last time around and reasonable lawyers can disagree," Napolitano told Fox & Friends co-hosts on Tuesday morning.
On Monday, Dershowitz told senators in his opening arguments that even if Trump withheld military aid to Ukraine in exchange for an investigation into former Vice President Joe Biden and his son Hunter, it didn't constitute an impeachable offense. The defense attorney claimed without criminal conduct, the case to remove Trump from office fell flat.
"That is clear from the language of the Constitution," Dershowitz told senators. "You cannot turn conduct that is not impeachable into impeachable conduct simply by using words like 'quid pro quo' and 'personal benefit.'"
Napolitano disagreed that a crime was required to oust a president from his position. However, he called Dershowitz a "brilliant guy" who has studied the Constitution, and added, "people will probably believe the lawyer they want to believe."
Several people, including Napolitano, pointed out that in 1998, Dershowitz took the opposite stance when it came to then-President Bill Clinton and his impeachment trial. During an interview with CNN, Dershowitz said you don't "need technical crime," to remove a president from office if they abuse trust and pose "great danger to our liberty."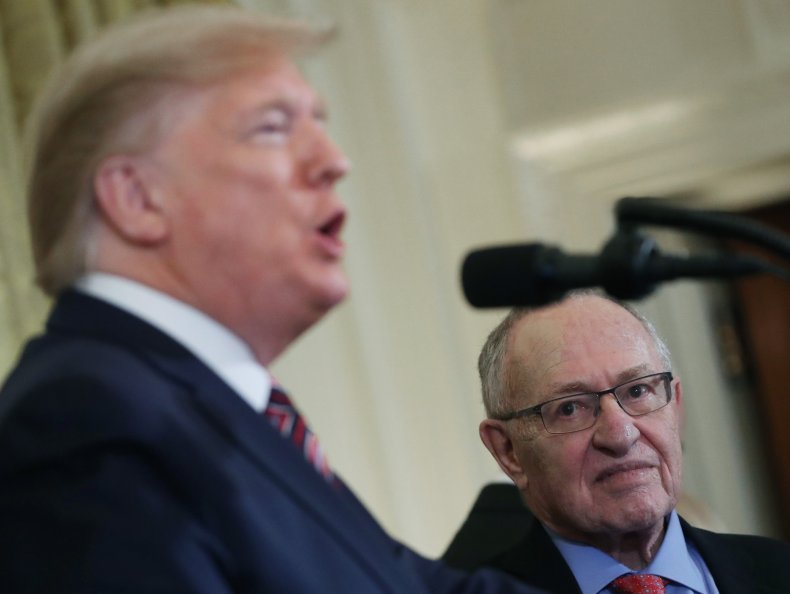 On January 21, Dershowitz posted on Twitter that he didn't "research the issue" back in 1998 and relied on the academic consensus that a crime wasn't required.
"So I have now thoroughly researched the issue and concluded that although a technical crime with all the elements may not be required, criminal like behavior akin to treason and bribery is required," Dershowitz concluded a series of tweets.
Ahead of Dershowitz's address in the Senate chamber, The New York Times reported former national security adviser John Bolton wrote in a manuscript that Trump told him he wanted to freeze aid to Ukraine until officials helped with investigations into the Bidens.
Dershowitz was the only member of Trump's defense team to reference the bombshell claim. He argued that even if it were true, there was nothing about the reported content that constituted an impeachable offense. The Constitution's creators would have rejected the "vague terms" of abuse of power and obstruction of Congress, the two articles against Trump, as grounds for removing a president, according to Dershowitz.
Trump denied the claim made in Bolton's manuscript. Still, Democrats and a few Republicans have used the Times' report as support for why the Senate should call witnesses to testify in the president's impeachment trial. The decision about witnesses will be made after senators have a chance to submit questions to both House managers and Trump's defense and if Bolton does testify, Napolitano said it will "open up a can of worms."
"Suppose, for example, John Bolton relates a conversation that only he and the president had, how are the president's people going to rebut that without the unthinkable—putting the president on the stand," Napolitano said.