Fox News' Judge Jeanine Doesn't Want the Media to Know What She Told California Republicans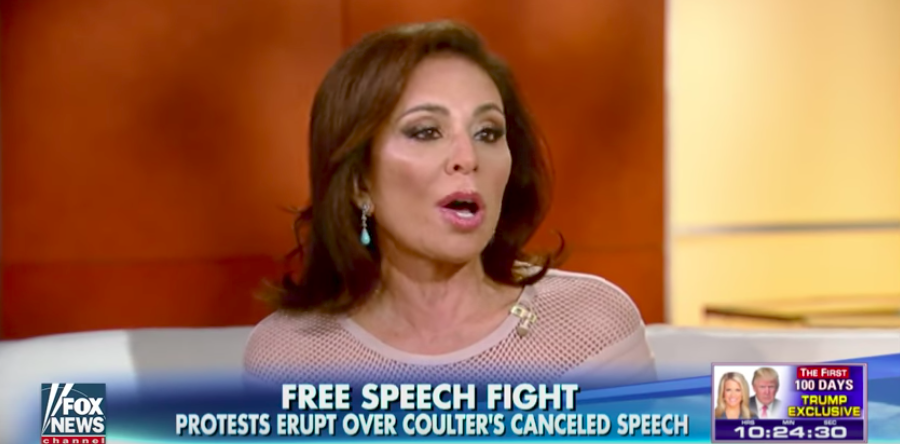 On Fox News, Jeanine Pirro is a vociferous defender of the First Amendment, frequently lambasting liberals unwilling to tolerate the uncomfortable opinions of conservatives. But the celebrity jurist, a close associate of President Donald J. Trump, may not be quite the free- speech absolutist she appears to be.
Journalists attempting to attend a speech by Pirro in Anaheim, California, at the annual convention of the state's Republican Party over the weekend were told they would not be allowed to attend the event. There had been no previous indication that Pirro would forbid the press from attending her talk on Saturday.
The previous night, journalists were invited to cover the opening-night speech by Stephen K. Bannon, the former White House chief political strategist. Several times during his speech, Bannon gamely called out members of the media gathered at the back of the ballroom at the Anaheim Marriott. He cautioned the Republicans gathered there not to shout "CNN sucks," reminding them that they weren't at a Trump rally.
Journalists were allowed to cover other events on Saturday, including talks by conservative economist and Trump adviser Stephen Moore and anti-taxation activist Grover Norquist. Much like Bannon the night before, they showed no hesitation in sharing controversial viewpoints on the record. Norquist, for example, compared liberals, in their approach to taxation, to serial killer Richard Speck.
Megan Range, who handled media relations for the California Republican convention, said Pirro offered no reason for making the last-minute decision to keep the press from attending her half-hour speech. A spokeswoman for Fox News did not answer a request for comment.
Curiously, no record of Pirro's speech is available online, making it impossible to know what she said to the several hundred Republicans gathered to hear her.
Pirro, a former district attorney and judge in Westchester County (which includes the suburbs north of New York City), is known as "Judge Jeanine" to Fox News viewers. Justice With Judge Jeanine airs on Saturday evenings. Among its viewers is Trump, who has tweeted about Pirro's program on more than a dozen occasions since 2014. After she was spotted at Trump Tower a week and a half after the election, the New York Post speculated that she might be given a post in the new administration.
It is unclear why Pirro didn't want the press to hear whatever she said in Anaheim. And while her order to keep out the press may not have violated the First Amendment, it certainly ran counter to the message she espouses on her Fox News program. Over the last year, she has frequently lambasted the administration and student body of the University of California, Berkeley, for the sometimes violent hostility they've shown toward right-wing speakers invited to that campus.
"We are in danger of becoming a fascist, totalitarian society," she warned in April, after a speech by right-wing provocateur Ann Coulter was canceled at Berkeley. Later, speaking on Fox & Friends, she said, "I can't wait for these young kids to get in the real world, to come into it, 'cause they're not gonna be able to survive."
She added that "the left is shutting down the right systematically."
There was no danger of any significant hostility in Anaheim. Although there had been some protesters of Bannon's speech on Friday night, none seemed to show up on Saturday, the second day of the convention.
During the presidential campaign, Trump sometimes barred journalists from events if their coverage had angered him. As president, he reportedly mused about ending the daily White House press briefing. The briefings continue.