Fox News Judge Predicts Supreme Court Could Make Trump Turn Over Tax Returns 'Before Christmas'
Fox News judicial analyst Andrew Napolitano this week predicted that the Supreme Court will likely to force President Donald Trump to turn over his tax returns before Christmas.
A New York federal appeals court ruled on Monday that Trump's tax returns can be turned over to criminal investigators in the state. The 2nd U.S. Circuit Court of Appeals' judgment, which is expected to be challenged, came after the president's attorneys argued that he is exempt from state criminal law due to his position in office. In response, the three-judge panel decided that "any presidential immunity does not extend to investigative steps like the grand jury subpoena at issue here."
Hours after the ruling, Napolitano appeared on Fox News and predicted that Trump's attorneys will appeal the decision, which will likely be heard by the Supreme Court "on an emergency basis."
"The United States Court of Appeals for the 2nd Circuit, that's right below the Supreme Court, ruled that there's no broad immunity for the president for behavior he engaged in before he was in the White House," Napolitano explained. "This subpoena is for his tax returns and the Trump organization corporate records from 2015 and 2016. It also ruled that since the subpoena is not to him, it's to his accountants, it doesn't require him to do anything that might be disruptive of his job as president."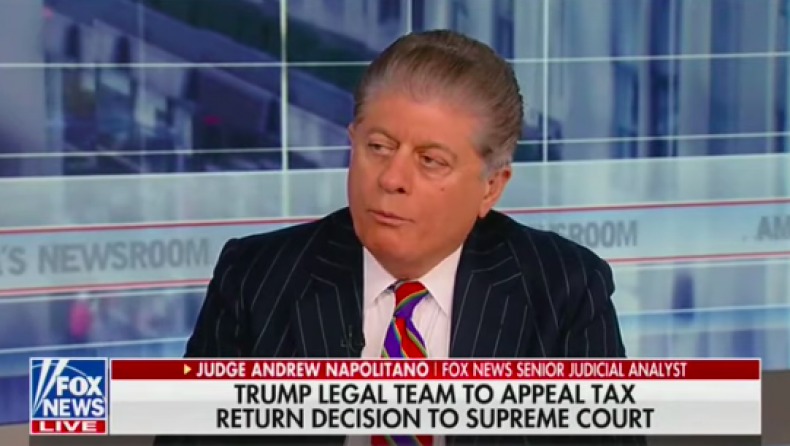 The Fox News judicial analyst pointed out that the judgement is "consistent with what a trial judge ruled when the president sought to throw out the subpoena," before then detailing next steps.
"What happens next will probably be an application to a single justice of the Supreme Court to stop the effect of the decision," he continued, noting that Justice Ruth Ginsberg will likely be that justice "because she is assigned by geography to hear appeals from federal courts coming from this circuit."
The appeals court's ruling on Monday does not address whether a sitting president is immune from prosecution by a state court. "This addresses investigation," Napolitano clarified, "no one is immune from the government investigating their behavior."
"If Ginsberg stays the effect of this decision, then the court has all the time that it wants to decide whether or not to hear the appeal," he continued. "If she doesn't stay the effect of the decision, I would imagine the president would then appeal to the entire court asking for a stay. If no stay is issued, then the subpoena is going to be complied with. Remember it's not a subpoena to him, he can't physically stop it.
"If the Supreme Court were to hear this, I think they would hear it in an emergency basis, meaning before Christmas. They know how important this is," Napolitano added.