Fox News Judge Says Trump Admitted to a Crime, Host Says There's 'Meat on the Bones' of Impeachment Inquiry
Fox News host Chris Wallace on Tuesday afternoon said there's "meat on the bones" of the impeachment inquiry launched into President Donald Trump after Fox News judge Andrew Napolitano made similar remarks, saying Trump admitted to a crime, hours before Nancy Pelosi made her announcement.
Pelosi on Tuesday afternoon announced that the House will move forward with a formal impeachment inquiry of Trump, despite having long resisted calls from progressives in her party to begin proceedings. In recent days, Pelosi's mind appears to have changed on the matter after the emergence of the whistleblower scandal.
The Trump administration has been accused of pressuring the newly-elected Ukrainian leader, Volodymyr Zelensky, to open a probe into the business dealings of 2020 Democratic candidate and former Vice President Joe Biden's son, Hunter Biden. An unidentified whistleblower subsequently filed an official complaint reportedly after having concerns about a phone call made between Trump and Ukraine.
"Today I'm announcing the House of Representatives is moving forward with an official impeachment inquiry," Pelosi said in a scathing statement in Washington, D.C. "This week, the president has admitted to asking the president of Ukraine to take actions which would benefit him politically."
"The actions of the Trump presidency revealed dishonorable facts of the president's betrayal of his oath of office, betrayal of national security and betrayal of the integrity of our elections," she added.
Following her announcement, Wallace explained why there's a "lot of meat on the bones" of the impeachment inquiry.
"The fact is President Trump and his staff have ready said quite a lot since Sunday in trying to explain or defend what they did that puts a lot of meat on the bones," Wallace said. "The president says that in that introductory, congratulatory phone call with the president-elect at that time in Ukraine, he did talk about Joe Biden, his son and possible corruption, and expressed some concerns about wanting the Ukrainian to look into that."
"We also know, because it was admitted today by Kellyanne Conway, the story that was on the front page of the Washington Post this morning, which is that the president did ask acting Chief of Staff Mick Mulvaney, before he made that call in July, to stop the provision of military aid to Ukraine, which had been overwhelmingly passed by Congress," the host noted.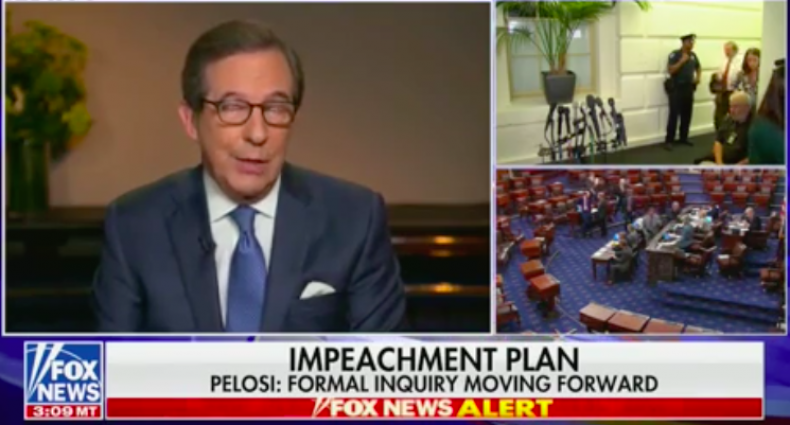 Wallace went on to note that although Trump "denies there was a direct quid pro quo," he believes the inquiry "may not bear fruit, but there is some meat on the bones here."
"Both in terms of what the president said to the Ukrainian president and the actions that he had taken to stop aid before he made that call," he added. "So, there's going to be something here for Congress to investigate, whether it ends up rising to the levels of articles of impeachment, we don't know."
Hours before Pelosi's announcement, Napolitano told Fox host Shepard Smith that Trump had admitted to a crime. "It is a crime for the president to solicit aid for his campaign from a foreign government," he said.