Fox News Judge Says Trump Declaring National Emergency Unlikely to Get Him Border Wall: 'The Law Is Clear'
Fox News judicial analyst Andrew Napolitano on Monday said he didn't think President Donald Trump declaring a national emergency would help him obtain funding for the proposed wall on the southern U.S.-Mexico border.
During a segment on State of the Union, Fox News anchor Jon Scott asked Napolitano whether Trump has "the authority to declare a national emergency and spend money on the wall."
"I think the law is very clear, and I think the president has been advised of it, that if he signs an executive order declaring a national emergency and directing the military to spend money that has not been expressly appropriated for the wall or that has not been expressly appropriated for eminent domain—since much of the real estate where they want to build the wall is privately owned—I think it's pretty clear the court will stop him from doing that," the senior analyst responded.
Napolitano went on to explain that Trump would "win by losing" if he declared a national emergency, as doing so would help him gain political points with his base.
"It's not that I want him to lose, I don't, but the law is very clear," he said. "When [President Harry] Truman attempted to [declare an emergency] during the Korean War, the Supreme Court said 'You can't spend money unless Congress has authorized it.'"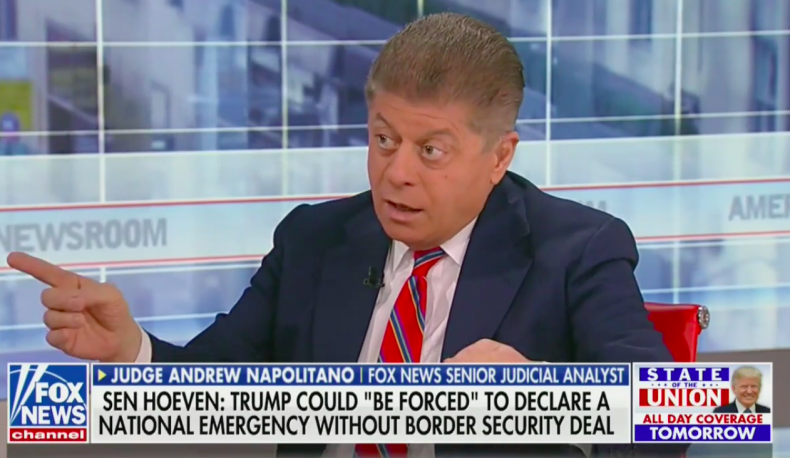 A partial government shutdown went into effect in December 2018, after Trump refused to sign a stopgap measure to keep it running through to February because it didn't include funding provisions for his proposed southern U.S.-Mexico border wall—one of the president's signature campaign promises.
The stalemate between Trump and congressional Democrats over funding for the wall lasted a record 35 days and came to an end in late January, when the president eventually signed legislation to temporarily reopen the government until mid-February. Although the stopgap measure didn't include any funding for his wall, it did allow for bipartisan lawmakers to continue negotiations for various forms of border security.
In recent days, the president has repeatedly stated that the negotiations have been a waste of time and suggested declaring a national emergency to bypass Congress and achieve his promise to build the wall. On Friday, he told reporters there was a "good chance" he'd do it if lawmakers continued to deny his demands, suggesting the national emergency declaration could be called as early as his State of the Union address on Tuesday.