Fox News Host Calls Kellyanne Conway's Husband a 'Moron' for 'Publicly Humiliating' His Wife
The husband of White House counselor Kellyanne Conway is a "moron" for "publicly humiliating" his wife by forming a conservative group intent on challenging President Donald Trump, according to Fox News host Mark Levin.
Levin, who has shown support for Trump and reportedly even influenced the president's unfounded claim about Barack Obama wiretapping him, cited a report Thursday about George Conway organizing a group called Checks and Balances despite his wife's prominent and very public role with the Trump administration.
"Apparently you believe in publicly humiliating your wife, moron," Levin tweeted.
Levin, an attorney as well as a radio host, has often defended Trump. He labeled the president as more conservative than both President George H.W. Bush and George W. Bush, defended Trump's actions against Russia—like sanctions—after the president said he believed Vladimir Putin's denials of election meddling and claimed the media repeatedly attacks Trump.
Levin has also claimed Trump should take away more security clearances, as he did to former CIA director John Brennan in August, and said the president was in "good shape" legally in the special counsel's probe.
Other Fox News hosts, like Sean Hannity, Laura Ingraham and Judge Jeanine Pirro, have faced criticism for defending Trump. Hannity and Pirro appeared at Trump's final rally last week before the midterm elections, and Fox News later said it did not condone any of its "talent participating in campaign events."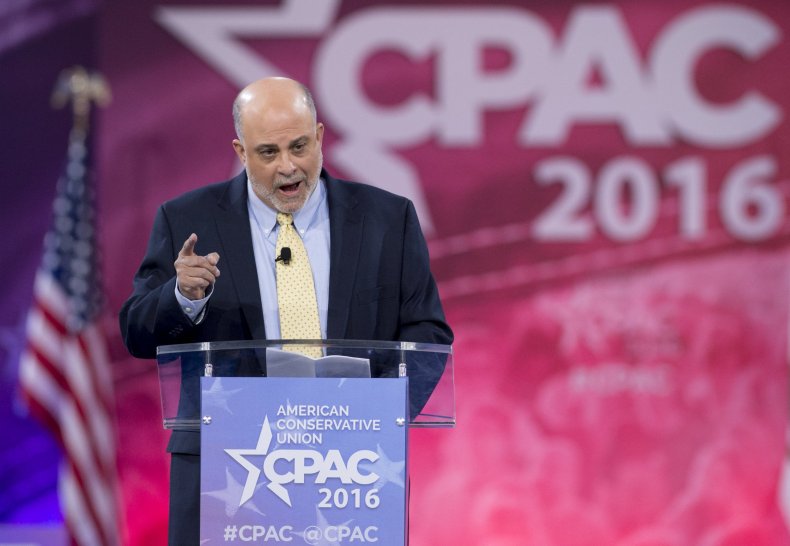 Though he was a supporter at first, George Conway has ripped the president over various issues like immigration and recently the appointment of Matthew Whitaker as acting attorney general.
The president last week responded to a question about an op-ed Conway co-authored that said Trump's appointment of Whitaker was unconstitutional by calling him "Mrs. Kellyanne Conway" and said George Conway was merely "trying to get publicity for himself." The president suggested reporters direct their questions to his counselor.
Checks and Balances thinly referenced Trump when it announced its mission statement Wednesday, a day before powerful conservative legal group The Federalist Society held its annual convention.
"We believe in the rule of law," the group said in a statement, "the power of truth, the independence of the criminal justice system, the imperative of individual rights and the necessity of civil discourse. We believe these principles apply regardless of the party or persons in power."
Attorney John B. Bellinger, who served under President George W. Bush in the State Department and as a lawyer in the White House, went further and said Trump was undermining "constitutional principles."
"Conservative lawyers are not doing enough to protect constitutional principles that are being undermined by the statements and actions of this president," Bellinger told The New York Times.