Fox News' Brian Kilmeade Claims Impeachment Witness Alexander Vindman is 'Simpatico' With Ukraine
After fellow Fox News host Laura Ingraham suggested White House official Alexander Vindman may be a double agent, Brian Kilmeade continued to question Vindman's allegiances as an Ukrainian immigrant on Fox & Friends Tuesday morning.
"He's got a Purple Heart," Kilmeade briefly noted before diving into Vindman's background. "He is from the Soviet Union, he emigrated here and has an affinity for the Ukrainian people."
Later in the show, Kilmeade again mentioned Vindman's history as a Ukrainian immigrant.
"He's got a Purple Heart. He got hit by an IED in Iraq. We also know he was born in the Soviet Union, emigrated with his family, young. He tends to feel simpatico with the Ukraine," Kilmeade said. The Fox News host did not elaborate or provide any evidence as to how Vindman feels "simpatico" with the foreign nation.
Vindman is the first White House official to break with President Donald Trump and testify as part of the House of Representatives' ongoing impeachment inquiry. According to his prepared opening statement, Vindman will tell lawmakers that he "believed President Donald Trump undermined U.S. national security when he appealed to Ukraine's president to investigate his political rivals."
Vindman is a two-decade veteran of the U.S. Army and has a Purple Heart from fighting in the Iraq War. After leaving the military, Vindman became the top Ukraine expert on the National Security Council.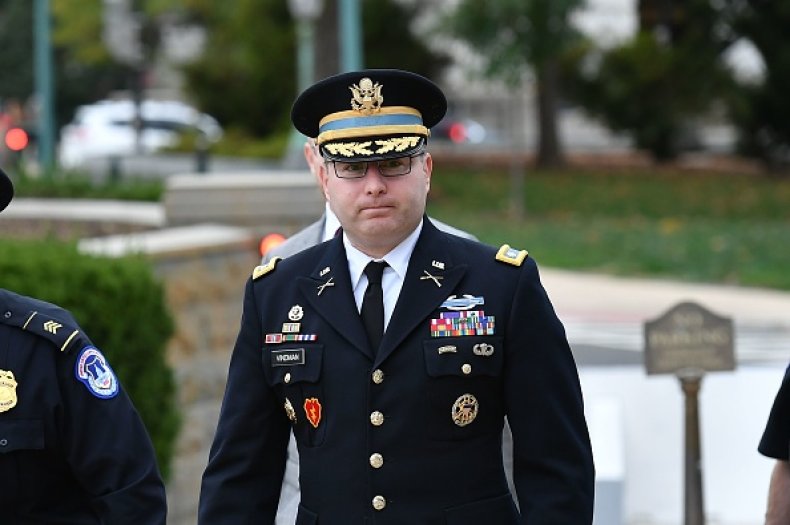 Kilmeade isn't the only Fox News host to try to assail Vindman's character ahead of his appearance on Capitol Hill. On Monday night, Ingraham suggested that the White House official was a double agent.
During her show, Ingraham cited a New York Times article that reported how Ukrainian officials would seek advice from Vindman on how to deal with Trump's personal attorney Rudy Giuliani, who has become a central figure in the unfolding Ukraine scandal.
Ingraham turned to her guest, law professor and former Justice Department official John Yoo, and said: "Here we have a U.S. national security official who is advising Ukraine, while working inside the White House, apparently against the president's interest, and usually, they spoke in English. Isn't that kind of an interesting angle on this story?"
Yoo responded that it was "astounding" and that "some people might call that espionage."
Jeremy Bash, former chief of staff at the Department of Defense and the Central Intelligence Agency, told MNSBC that Fox News' coverage of Vindman is "despicable."
"Here we have the followers of Donald Trump doing what I think is absolutely despicable, which is claiming that not only is he against Trump but he is un-American. I don't think Republicans, Democrats, anybody who cares for our country is going to stand for that," Bash said.