Fox News Guest Says Kim Jong Un Thinks Donald Trump is 'Weak' for Traveling Around World for Another Summit
North Korean dictator Kim Jong Un believed President Donald Trump was "weak" after the United States president again traveled a vast distance for a joint summit, global policy expert Ian Bremmer told Fox News on Thursday. The second summit between the two leaders came to an abrupt and premature conclusion in Hanoi, Vietnam, on Thursday after the two sides failed to come to an agreement over how to proceed with bringing lasting peace to the Korean peninsula.
There have been differing accounts on why the summit collapsed. Trump told reporters in Vietnam that North Korea had demanded the full removal of sanctions in exchange for complying with a request to shutter the country's Yongbyon nuclear facility. Hours later, however, North Korea's foreign minister, in a rare press conference, said that the country had only asked for partial removal of sanctions.
But Bremmer, the president and founder of global political risk research and consulting firm Eurasia, shared his expert opinion on why Kim Jong Un may have felt emboldened in his demands.
"Kim Jong Un decided that he was going to be a maximalist," Bremmer said on Fox News show The Daily Briefing. "Because it's not like he has any experience engaging in direct negotiations. He sees Trump as kind of weak, as coming over halfway around the world twice. And so, hey, 'He'll take anything I give him.'"
Newsweek subscription offers >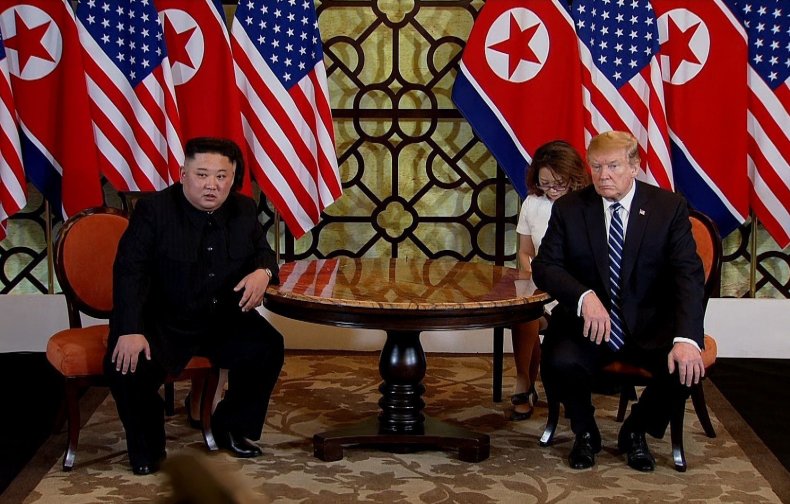 The fact that Trump did not end up making a bad deal with Kim has earned him rare bipartisan support in Washington.
"What we want is denuclearization," House Speaker Nancy Pelosi said at her weekly news conference. "They didn't agree to it in the first meeting. They didn't agree to it in the second meeting. They wanted lifting sanctions without denuclearization. I'm glad that the President walked away from that."
Earning far less praise, however, was Trump's surprising comments about the death of Otto Warmbier, an American college student who spent 17 months in detention in North Korea before being returned to the U.S. in a coma and dying shortly afterward in 2017. Trump said that he believed Kim when he said that he had no knowledge of Warmer's treatment while in detention.
Newsweek subscription offers >
"I do not see the leader of North Korea as somebody who's a friend," House Minority Leader Kevin McCarthy said. "We know what happened to Otto. We know what this country has done. I support the president in his effort to denuclearize them, but I do not have a misbelief of who this leader is."
Fox News Guest Says Kim Jong Un Thinks Donald Trump is 'Weak' for Traveling Around World for Another Summit | World