Fox News' Laura Ingraham Accuses Liberals of Seeking 'Historical and Cultural Purge' of America
Fox News host Laura Ingraham has accused liberals of seeking an "historical and cultural purge" of the U.S.
Speaking on her show The Ingraham Angle on Tuesday night, the host accused liberals of hating "our American traditions and a lot of our heritage."
"The same left wingers who claim Trump is a lowbrow ignoramus are conspiring to make our children something far worse, in my mind.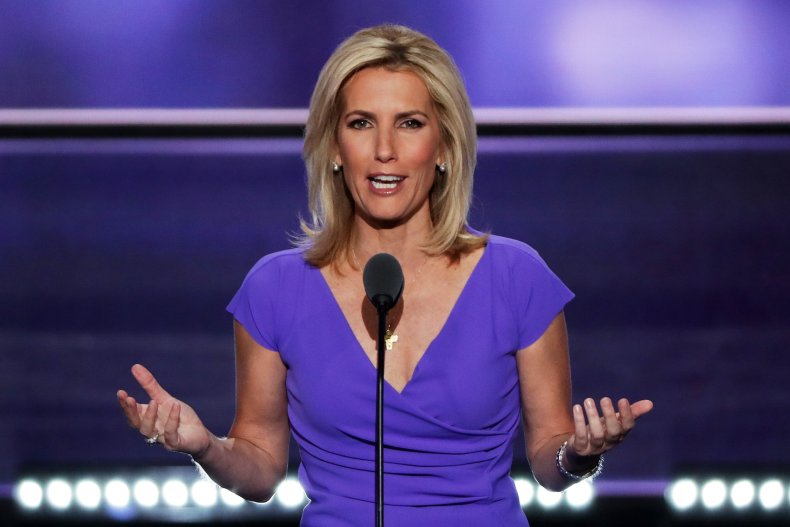 "Not only do today's liberals—many of them—hate our American traditions. and a lot of our heritage, but they are also the agents of a historical and cultural purge the likes of which I don't think we have ever seen in our nation."
Ingraham referenced the removal of thousands of Confederate monuments from public spaces in the U.S. in the wake of last August's white nationalist protests in Charlottesville.
Ingraham accused liberals of "removing history altogether rather than allowing the next generation to see it, interpret it and, yes, debate it."
The host went on to compare protesters against Trump administration officials to the "racist South."
"When you get crowds of people around an individual... if they feel another person is subhuman, I mean, we saw this in the racist South," she said. "People were considered subhuman, and they felt like they could do anything to black America."
She continued: "And now, you get the sense that we're in that really scary place now. That, to me, is terrifying."
Her comments follow the expulsion of White House press secretary Sarah Huckabee Sanders from a Lexington restaurant Friday, and protests outside the home of homeland security secretary Kirstjen Nielsen. Both officials had defended the Trump administration policy of separating children from their undocumented migrant parents at the U.S. border and placing them in detention centers.
Several companies pulled ads from Ingraham's show last week after she compared detention centers, in which children have been photographed being held in cage-like areas, to "summer camps."