Fox News Host Laura Ingraham Blasts 'PC Puritans' Over Ralph Northam Racist Photo, Slams Democrats for 'Throwing Even Their Own Under the PC Express'
Fox News pundit Laura Ingraham has defended Democratic Virginia Governor Ralph Northam, who is embroiled in a controversy surrounding a racist photo featured in his yearbook decades ago.
Lots of folks, including some of his closest Democratic allies, have called on Northam to resign after it was revealed that his 1984 Eastern Virginia Medical School yearbook featured a picture with a man in blackface and another in a KKK outfit. Northam apologized at first, but then claimed to believe it was not him in the photograph—while admitting he had once dressed up in blackface as a part of a Michael Jackson costume.
Ingraham blamed political correctness for the backlash against Northam, which she said has typically targeted Republicans.
"In their America, the wall is racist. Deporting illegals is racist. ICE is racist. Century-old monuments, they're racist. Assimilation, definitely racist. Requiring English be spoken, absolutely racist. College Indian mascots, oh, they were way racist. Way beyond blackface, many costumes are now racist," Ingraham said on her Fox News show The Ingraham Angle. "But now liberals are in a huge pickle. How do they maintain their racial bonafides, when one of their own governors cut loose during a med school Halloween party dressed like this? Well, of course, with the release of this image on Friday, the career of Virginia Governor Ralph Northam hangs in the balance."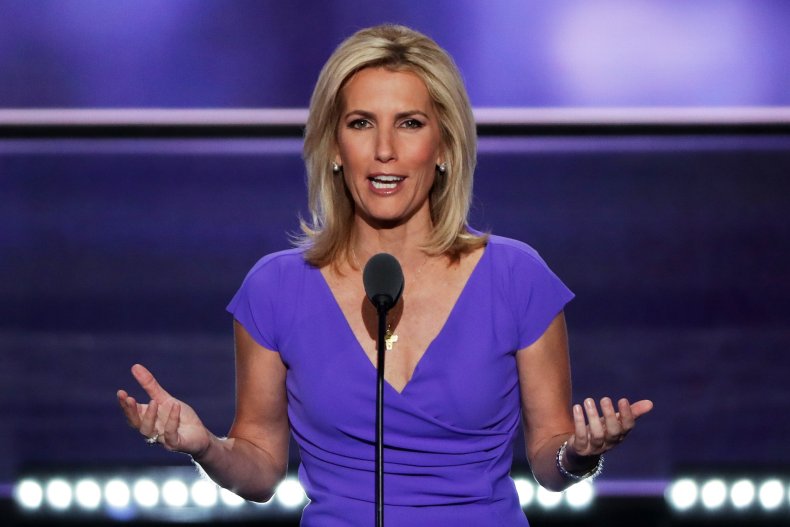 Ingraham then noted the many major Democratic figures who called on Northam to resign. She then asked Republicans not to join in:
"The left now finds itself hoisted on its own petard. To satisfy their nutbag base, Democrats have set themselves up as these P.C. Puritans—a band of politically correct enforcers who traverse the culture, stamping out any and all who violate their ever-shifting ethical codes. So now everybody is walking on eggshells everywhere to avoid being called out for white privilege or gender privilege, without the privilege of knowing what this new orthodoxy even requires. Ralph Northam's fate will ultimately be decided by Democrats in the Commonwealth. And Republicans would do well to avoid joining the PC Puritans of the left. Because the Democrats, they're tripping all over themselves to prove how enlightened they are by throwing even their own under the PC express."
Later in the segment, Ingraham said she thought it would be unfair for the photo to leave a lasting mark against Northam's name.
"I don't like the fact that this becomes someone's entire life, whether it's a photo or an offhand statement, made years ago or recently," she said, before going on: "I think that photo's a bad photo. But I think to say someone is a racist because of what they did in med school with a Halloween costume, I don't think that's going to go into a good place for this country."
The fallout from Northam's photo controversy has been swift. A new poll this week found that his net approval rating has fallen a stunning 41 points since the story broke. The Morning Consult survey found 29 percent of Virginia voters approved of the job Northam was doing, down from 48 percent before the controversy. Among Democrats, his approval plummeted from 70 percent to 50 percent.
Despite pressure from within his own party, Northam has thus far refused to step down. CNN's Don Lemon said this week that the Virginia governor was copying the strategies of President Donald Trump in his response to the controversy.
"Ralph Northam's strategy is straight out of the Trump playbook, just double down, triple down, wait for the storm to pass, wait for the next big story to push this scandal out of the headlines," Lemon said. "It is a strategy that has worked for the president but the question is, will it work this time?"
This story and headline was updated to include further quotes from Laura Ingraham during the segment.