Fox News' Laura Ingraham Says Trump 2020 Challengers Will Have to 'Kiss Alexandria Ocasio Cortez's Ring'
On Thursday night, Fox News host Laura Ingraham said Democrats planning to run against President Donald Trump in the 2020 election will have to "kiss Alexandria Ocasio-Cortez's ring," since the newly elected democratic socialist has made waves in the House of Representatives in so little time.
The host ofThe Ingraham Angle argued that the Democratic base, with the exception of a few moderates, is "moving everybody to the left."
"They're all going to have to kiss Alexandria Ocasio-Cortez's ring," Ingraham said. "When they're running for president, in one way or another, they're going to kiss the ring. And she's only been in town for seven days. That's pretty amazing."
Ocasio-Cortez made history by unseating a longtime incumbent who was considered the No. 3 Democrat in the primary. After her win in the November midterm elections, became the youngest woman elected to Congress at the age of 29. She hed been outspoken on the campaign trail and as she waited to take her seat, and continues to be.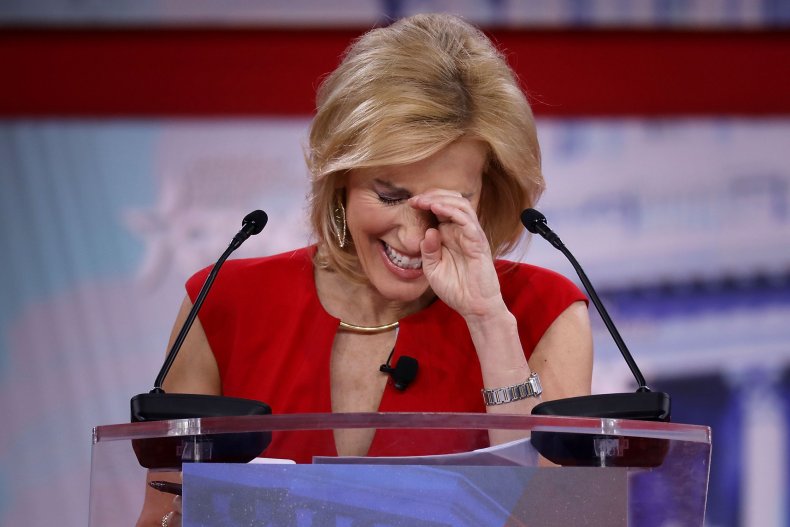 The previous evening, Ingraham rather surprisingly praised Ocasio-Cortez on her show, despite the freshman congresswoman having slammed her and Fox News in the past.
"It's really impressive that she goes from being, you know, she was working at a coffee shop, fairly modest means, and she takes on this very liberal Crowley, Congressman Crowley, third in the leadership in the Democratic Party," Ingraham said. "And she just organizes the heck out of it and rolls right over him."
Ingraham continued: "I kind of like the fact that she's like, 'You guys lost to Trump. I'm going to help take this party in a new direction.' I kind of admire that."
Ocasio-Cortez responded to a Vox story calling for her to run for president in 2020, which was critical of the longstanding rule that candidates must be at least 35 years old. "How about… no," the congresswoman tweeted in repsonse.
"Sometimes political media is too fixated on personalities instead of policies," Ocasio-Cortez continued in her tweet. "The whole country JUST went through an exhausting midterm election. We need a break. Can we instead talk about healthcare, a living wage, legalizing cannabis, GND, & other issues?"
While Ingraham complimented Ocasio-Cortez on Wednesday, she took issue with the congresswoman accusing Fox News of crossing "a line beyond conservatism and into outright bigotry with their financing" of Ingraham.
"My authentic self, I mean... she's questioning my own truth, I think. As a single woman, I felt so offended by what she said about me," Ingraham said. "Woman to woman, as a single mother."
Ingraham added that she invited Ocasio-Cortez onto her show.
"I haven't heard back. We'd love to have you on," Ingraham said, looking into the camera.