Legal Analyst on Fox News Says AG's Memo Authorizing Election Fraud Probes 'Certainly Not Going to Change the Electoral Results'
Attorney James Trusty, a former Department of Justice prosecutor, said on Fox News Tuesday that Attorney General William Barr's memo authorizing prosecutors to investigate election fraud allegations would not overturn the election results.
Barr, who was appointed by President Donald Trump and took control of the Justice Department in February 2019, issued a memo this week authorizing prosecutors throughout the country to look into "substantial allegations" of voting fraud without seeking the approval of the department's election crimes section. The memo, which went against long-standing Justice Department policy, led to the resignation of Richard Pilger, director of the elections crimes branch in the Justice Department's Public Integrity Section.
While many criticized Barr's decision, arguing it played into Trump's unsubstantiated claim that President-elect Joe Biden won through widespread voter fraud—Trusty told Fox News that any Justice Department investigation would not have an impact on the election results.
"Federal cases that are criminal are gonna move slowly. They're not going to be the things that overturn the elections," the lawyer explained. "I mean, it would be exceptional. It would be extraordinary to see any sort of indictment or anything this quickly during the time frame that matters," he said.
Trusty argued that Barr's memo was not as significant as critics have made it out to be, describing it as an "extraordinarily narrow and bureaucratic document." He said he didn't think "it's going to change the overall picture of criminal prosecution, and it's certainly not going to change the electoral results because it's just not going to move that quickly."
Barr's memo did not suggest that he expected investigations to uncover fraud at the level alleged by Trump, who has not provided evidence to support his claims. The attorney general wrote that "most allegations of purported election misconduct are of such a scale that they would not impact the outcome of an election and, thus, investigation can appropriately be deferred."
Newsweek reached out to the Justice Department for comment, but it did not respond in time for publication.
In an email to colleagues about his resignation, Pilger wrote that Barr was putting forward "an important new policy abrogating the forty-year-old Non-Interference Policy for ballot fraud investigations in the period prior to elections becoming certified and uncontested." Although Pilger has resigned from his director role, he will remain at the Justice Department.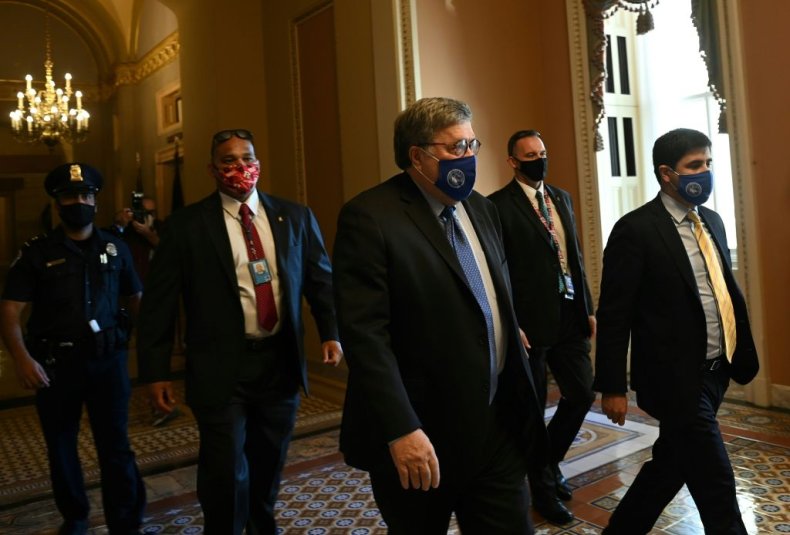 Trump has refused to concede the election, despite Biden garnering at least 290 electoral votes, surpassing the 270 required for victory. The Democrat also narrowly leads Trump in Georgia, which would give him 316 electoral votes in total. Georgia plans to proceed with a recount because of the small margin, although analysts do not believe Biden's lead of more than 12,000 votes will be overturned.
The Trump campaign has filed lawsuits alleging voter fraud in multiple battleground states, but these have been largely unsuccessful in the courts. Analysts have also noted that none of the lawsuits would dramatically change the overall election results, even if they were to succeed.