Fox News Legal Expert Says Donald Trump Can't Build His Wall by Declaring a National Emergency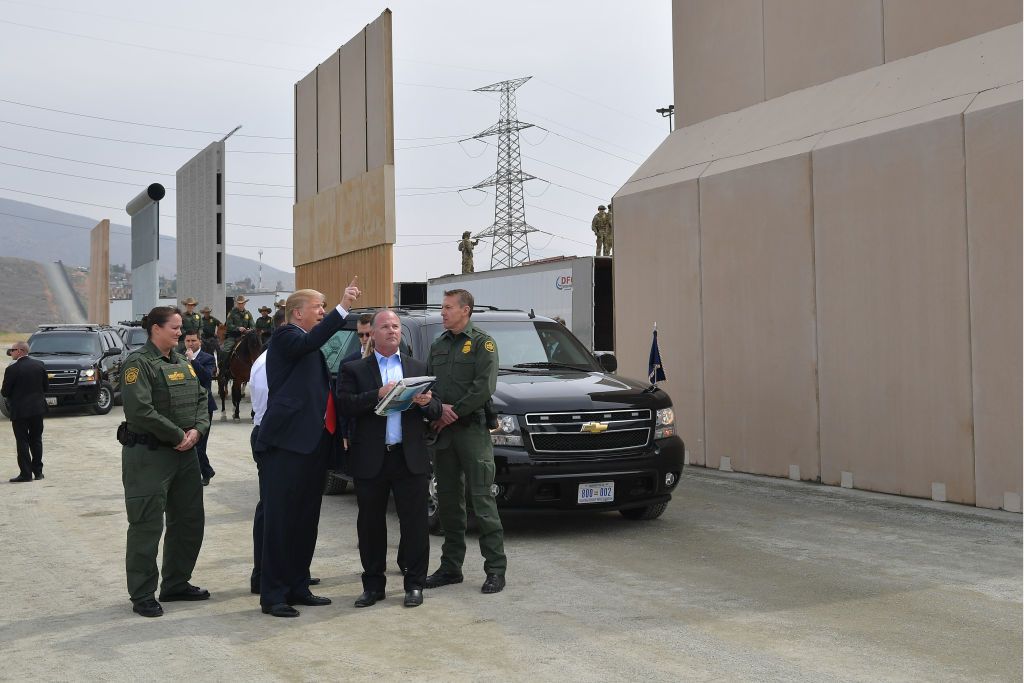 Fox News's senior judicial expert Andrew Napolitano explained to Fox & Friends on Tuesday morning that Donald Trump still could not legally build a border wall by declaring a national emergency, as the president has suggested he may try to do.
On Monday afternoon, Trump announced that he would address the nation to discuss border security on Tuesday evening. As he has threatened to declare a national emergency, many analysts have speculated that he may do so in the address. Right-wing pundit Sean Hannity, who also reportedly unofficially advises the president, has said that he is urging Trump to make such a decision.
But as Napolitano, who previously served as a New Jersey Superior Court judge, explained to the Fox & Friends team, declaring a national emergency wouldn't give Trump the means to build the barrier on the southern U.S. border with Mexico. He explained that it would only give Trump the ability to mobilize assets at his disposal, such as the military, but any funding would still need to be approved by Congress. Additionally, it would not give him the ability to seize property along the border, little of which is owned by the federal government.
"Most of the property the federal government doesn't own," Napolitano pointed out. "So they have to condemn it and pay for it. [Trump] can't do that without congressional authorization," he explained. "He can't spend money without congressional authorization.
"The emergency declaration," he added, "allows him to mobilize assets, but it doesn't allow him to take or occupy property, and it doesn't allow him to spend money the Congress hasn't authorized."
When host Steve Doocy pushed back, saying the president may try to use unspent Pentagon money that had already been approved by Congress, Napolitano said this was also legally difficult and unlikely.
"Can he take money from column A and put it in column B when column A was authorized by Congress and column B wasn't?" Napolitano asked, to explain the proposal. "Answer no," he said firmly. Although he admitted such decisions have been made before, he pointed out that this was not exactly legal but Congress has looked the other way. With Democrats controlling the House of Representatives, it would be difficult to imagine the legislative branch would turn a blind eye.
Napolitano also pointed out that even if Trump were to declare a national emergency and somehow secure the funds, the legal challenges would be so time-consuming and difficult to overcome that it would be much quicker to have a rational debate on reforming immigration policy. He pointed out that current U.S. laws are a mix of policies put forward at various times in history to address specific concerns, arguing that the whole system needed serious changes.
"We need a great national debate to resolve all these immigration issues, not with a gun to our head, not while people in the federal government are not getting paid," Napolitano said.
In December, Trump refused to sign a bipartisan budget because it did not include $5 billion of funding for his long touted border wall. As a result, the federal government has been partially shut down since before Christmas, impacting about 800,000 federal workers who have been temporarily furloughed or forced to work without pay. Experts have long pointed out that a border wall would be ineffective and exorbitantly costly, pointing to more viable solutions such as drones and better communication networks to address the situation.
Support for the border wall also does not appear to be widespread throughout the country, according to recent polls. A Quinnipiac poll released in December showed that 54 percent of respondents of any political affiliation oppose the wall regardless where the money comes from.