Fox Business Apologizes After Louie Gohmert Says George Soros is 'Supposed to be Jewish' but Hurts Israel
Representative Louie Gohmert, a Texas Republican, pivoted a conversation on Fox Business about Google and China into a rant about George Soros damaging Israel and "turning on" fellow Jews.
Update: Gohmert doubled-down on his bizarre rant against George Soros on Fox Business, issuing a statement Thursday afternoon: "Soros himself admitted in a 60 Minutes interview with Steve Kroft on December 20, 1998 that he had no regrets whatsoever about assisting the Nazis in confiscating property from the Jewish people during the Holocaust. That is a fact....My remarks were not anti-Semitic."
Fox Business host Stuart Varney later issued an apology for Gohmert's anti-Semitic remarks on air Thursday about the liberal billionaire and Hungarian Jew who is frequently targeted by right-wing figures. Gohmert claimed Google has "repeatedly sold their souls" and is helping China to oppress their people despite being "born in a free country." Gohmert's logic managed to tie author George Orwell to George Soros primarily by their shared first name before also comparing Google and Soros, claiming they both sold out their own people.
Gohmert referenced Orwell's Big Brother, character and symbol used in his classic novel about totalitarianism, Nineteen Eighty-Four.
"They've been willing to literally sell their soul," Gohmert told Varney about Google. "You mentioned Orwell, it also reminds me of another George, George Soros. Because Google is born in a free country, and then they go over and oppress others, help oppress in another country. George Soros is supposed to be Jewish but you wouldn't know it from the damage he's inflicted on Israel and the fact that he turned on fellow Jews and helped take the property they own."
"This same kind of thing, Google coming from a free country and helping oppress, but China's been oppressing for a while," Gohmert concluded.
Soros was born in Hungary to a Jewish family in 1930, but he is frequently slandered by conservative pundits and politicians for allegedly identifying Jews to the Gestapo and being a "Nazi collaborator." Right-wing figures like Gohmert have repeatedly made false claims Soros helped "round up" Jews and steal their property.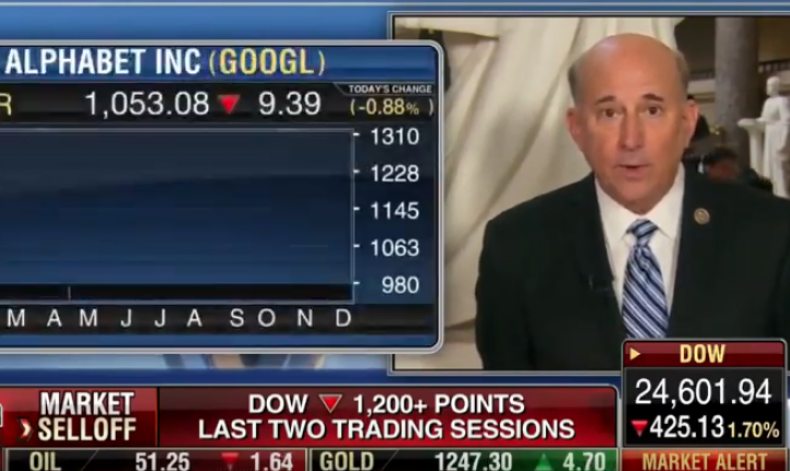 Later in Varney's broadcast hour, he issued an on-air apology for Gohmert's bizarre anti-Semitic rant: "Congressman Louie Gohmert, for some reason, went out of his way to bring up George Soros and made unsubstantiated and false allegations against him. I want to make clear those views are not shared by me, this program or anyone at Fox Business."