Fox News' Maria Bartiromo Called Bill Barr Saying Dems Were 'Stealing' 2020 Election: Book
Fox News host Maria Bartiromo claimed Democrats were "stealing the election" in a call to former Attorney General Bill Barr, according to allegations in a new book.
According to accounts in "Betrayal: The Final Act of The Trump Show," by ABC News' chief Washington correspondent Jonathan Karl, Bartiromo complained to Barr that the Department of Justice had done nothing to "stop the Democrats from stealing the election."
In a copy of the book seen by CNN, Barr reportedly told Karl on the record: "She [Bartiromo] called me up and she was screaming. I yelled back at her. She's lost it."
In the book, which will be released Tuesday, Karl said Bartiromo "had a reliable platform that ensured she could speak directly to the president."
This includes a November 8, 2020, segment where Sidney Powell promoted unfounded allegations of widespread voter fraud that cost Donald Trump the 2020 presidential election.
"Powell's interviews with Bartiromo caught Trump's attention and gave her a direct line into the White House," Karl wrote, according to CNN.
The book also says Barr, who succeeded Jeff Sessions as attorney general, was concerned by Trump's election strategy, which, he believed, needed to focus more on winning moderate voters in the suburbs in order to retain control of the White House.
Through a Fox News Media spokesperson, Maria Bartiromo denied these allegations to Newsweek, noting it was Barr who was aggressive with her, yelling and cursing during the call.
Bartiromo has previously shared content on social media that shared baseless claims that the 2020 election was somehow stolen from Trump.
In 2020, Twitter flagged some of the content she posted following Election Day with a message that read "some or all of the content shared in this tweet is disputed and might be misleading about an election or civic process."
The move led Bartiromo to set up a Parler account in protest of Twitter's decision to include the message.
Unfounded allegations of voter fraud have been shared by numerous Republican officials and is a view that is held by many of the party's base.
An Economist/ YouGov survey, conducted earlier in November and surveying 1,500 Americans, found more Republicans than in a similar poll in October believe Trump will be reinstated as president by the end of the year.
According to the poll, 28 percent of Republicans said it was either "very likely" or "somewhat likely" that Trump would return to the White House.
In September, Trump suggested he could be reinstated as president due to "tremendous voter fraud."
Since the 2020 presidential election, no evidence of widespread nationwide voter fraud has been uncovered to support Trump's claim.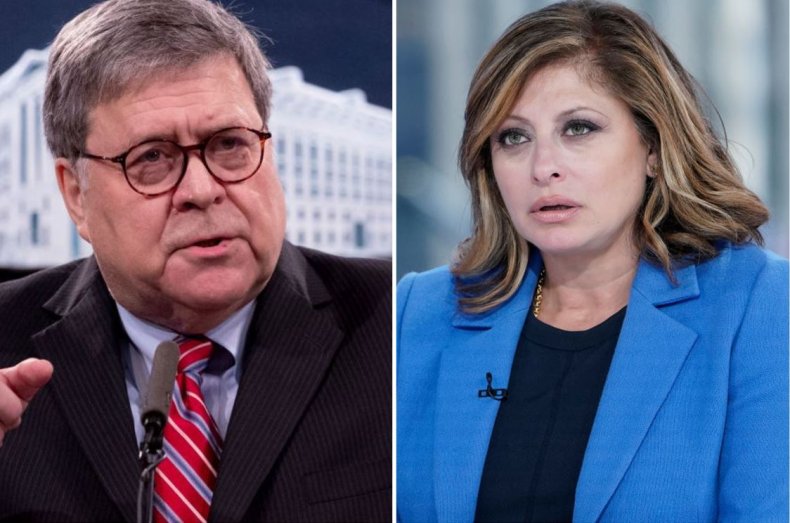 UPDATE 11/15/21 9:12 a.m. ET: This article was to include comment from Maria Bartiromo through a Fox News Media spokesperson.