Donald Trump's Favorite Fox News Hosts Allege 'Coup' Led By FBI, Democratic Party Conspirators
Mark Levin, Alan Dershowitz and Sean Hannity have joined a swelling group of Donald Trump supporters warning that the FBI and other entities they believe are part of the so-called deep state are staging a silent coup d'état against the president.
Online conspiracy theorists and their followers have long argued that a Department of Justice "coup" against the Trump administration has been in the works. Now, reports that former FBI Deputy Director Andrew McCabe and Deputy Attorney General Rod Rosenstein considered invoking the 25th Amendment to remove Trump have led more mainstream voices—including Fox News hosts Mark Levin and Sean Hannity, Harvard Law School professor Alan Dershowitz and Senator Lindsey Graham of South Carolina—to repeat the same "coup" accusation.
McCabe told CBS's 60 Minutes, in an episode that aired in full on Sunday, that he and Rosenstein had discussed "counting votes" to see which Cabinet members would consider invoking the 25th Amendment. Rosenstein denied McCabe's claim, and the Justice Department has repeatedly denied the existence of any 25th Amendment plot.
Still, the president's supporters insist the FBI, the Democratic Party, the mainstream media and even the Obama administration have conspired to remove Trump using constitutional authority.
Trump himself quoted Hannity's recent remarks in a tweet on Monday. "'The biggest abuse of power and corruption scandal in our history, and it's much worse than we thought. Andrew McCabe (FBI) admitted to plotting a coup (government overthrow) when he was serving in the FBI, before he was fired for lying & leaking.' @seanhannity @FoxNews Treason!"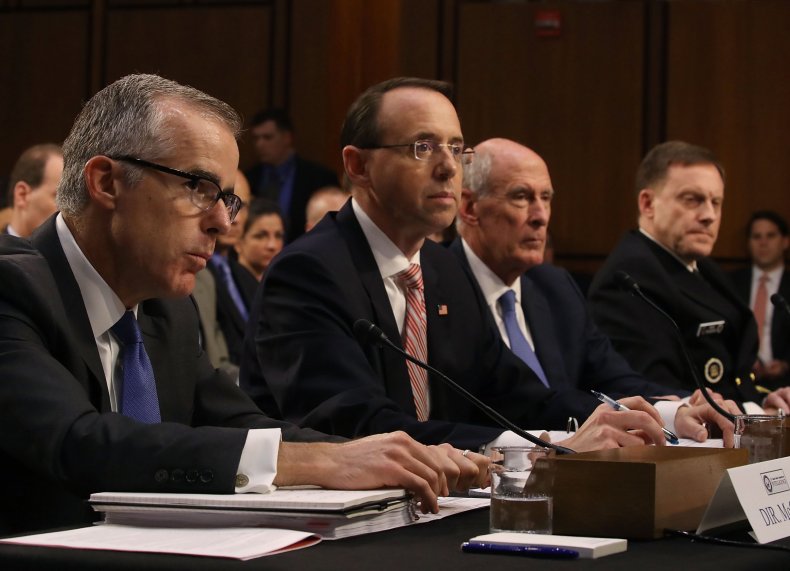 Levin congratulated himself during his LevinTV radio show Tuesday for first floating the "silent coup" concept, and he lashed out at other members of the conservative media for not supporting his suggestion that a coup was set in motion years ago. Levin argued "it's not even debatable anymore" that U.S. intelligence agencies are trying to overthrow the president.
"The media has finally caught up and are reporting on what was described on this program as, a 'silent coup,'" Levin said. "What Mr. Comey and Mr. McCabe and the others were doing was undermining the United States of America from within the government. From within the FBI. From within the Department of Justice. Nothing like this has ever happened before in the United States of America ever. Ever!"
Levin added, "We have never had an FBI trying to take out a duly elected president of the United States. Never!"
Speaking on Fox News Monday, Dershowitz echoed Levin's concerns over a "coup d'état."
"This is a serious issue. I think McCabe and Rod Rosenstein really believed the president had obstructed justice," Dershowitz told Fox News. "Any law enforcement official who thinks that the 25th Amendment operates in a case like this is disqualified from serving in government. That would be a serious movement toward an unconstitutional coup d'état, and I hope that didn't happen."
Graham, the chairman of the Senate Judiciary Committee, vowed in an appearance on CBS's Face the Nation on Sunday to investigate whether there was an "attempted bureaucratic coup."
A conservative watchdog group Judicial Watch, headed by Trump ally Tom Fitton, announced this week it was suing the federal government to recover alleged "coup" documents implicating Justice Department officials.
McCabe told MSNBC Wednesday, "I think the word 'coup' and the words 'treason' are interesting and inflammatory. They get people's attention, but they have nothing to do with the conversations that Rod Rosenstein and I had in that brief period in May."