Fox News Media Follows the Hallmark Channel Into Christmas Movies
The Fox News brand, if not the flagship channel itself, is getting a lot more warm and fuzzy by becoming the latest entity to feature romantic Christmas movies designed to compete with the hugely popular offerings from the Hallmark Channel.
On Thanksgiving Day, Fox Nation, the streaming companion to Fox News, will debut Christmas in the Rockies, an original TV movie about a young woman who leaves the big city to enter a lumberjack competition in order to help save the family's struggling business in small-town America—where she falls in love, of course.
The formula no doubt sounds familiar to fans of Hallmark's annual over-the-top yuletide offerings, whereby the channel airs nothing but sappy Christmas movies beginning two months ahead of December 25.
Christmas in the Rockies is the first movie to be co-produced by Fox Nation, joining Brain Power Studio and INSP Films to create the special programming. Plus, Fox News personalities Steve Doocy and Ainsley Earhardt make cameo appearances, playing themselves, co-hosts of the Fox & Friends morning show.
"They couldn't get anyone to play me the way I'd like, so I did it myself," Doocy joked during an interview with Newsweek. He added that due to the pandemic, the movie was rejiggered to shoot in New York instead of Canada.
"It was very helpful, because we did the scene the way we envisioned it. It worked out dandy," Doocy said. "When my kids were growing up, we'd look for shows that weren't embarrassing, and if we saw a guy in a red velvet suit, we'd stop channel surfing. We used to watch these wholesome shows, now I get to be in one."
Fox Nation has two others movies in the genre available this year, as well, Christmas on the Coast and Christmas on the Range—each featuring the requisite love story and family conflict revolving around a small business of some sort. Both those movies hail from INSP Films.
Hallmark pioneered the all-Christmas, all-the-time approach to holiday programming years ago, and it has seen competitors like Lifetime enter the fray and, to a lesser extent, Netflix. Last year, Hallmark's ratings surged 40 percent in the months it turned to Christmas shows compared with its regular programming. This year, it began airing Christmas shows a week before Halloween.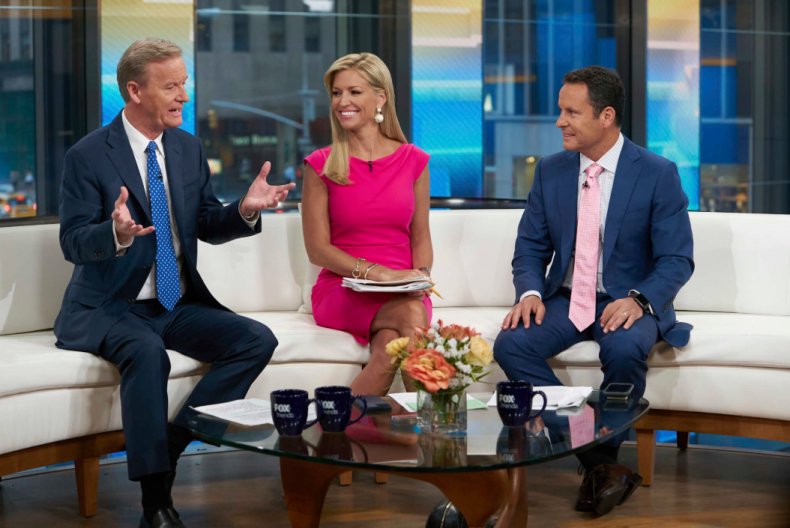 Fox Nation is the Fox News Channel's $5.99-a-month streaming service available on Apple TV, Roku, Xbox One, Comcast Xfinity and other platforms, and it had been focused on news and politics until it started to stray into life-style programming.
Earlier this month, for example, Fox Nation hosted its second annual Patriot Awards, a show honoring military vets, first responders and other inspirational figures, while in May it licensed the popular Duck Dynasty show along with debuting the season premiere of What Made America Great, a historical series.
In February Fox Nation tapped country music artist John Rich, who sings the song, "Shut Up About Politics," to host a show called The Pursuit! With John Rich, which features guests who describe their journeys to achieve the American dream.
Rich, in fact, teamed with Fox News star Greg Gutfeld to make "Shut Up About Politics," and the song raised $50,000 for the charitable organization, Folds of Honor, which provides educational scholarships to the families of fallen and disabled veterans.
As for Christmas in the Rockies, it is exclusive to Fox Nation in the U.S. until November, 2021. If successful, subscribers can expect more Christmas programming in the upcoming years.
Fox Nation is a unit of Fox News Media, as is the Fox News Channel.