Fox News fill-in anchor Julie Banderas defended the Trump administration's controversial child separation practice on Monday, arguing that migrant parents are "abusing" their children and also "dumping" them in fields after they cross the border illegally.
Banderas made the remarks during an interview with former acting director of Immigration and Customs Enforcement (ICE) Thomas Homan on the daily Fox News program America's Newsroom. Her comments came after Homan, who President Donald Trump has said he intends to hire as his "border czar," insisted that American voters are only critical of Trump's approach to immigration because they are misinformed, saying that the president is "doing a great job."
Responding to his remarks, Banderas appeared to agree with Homan's overall assessment.
"Yeah, no, certainly the separation of families was tragic," she said. "And it was something that, you know, maybe was avoidable, but it's hard to say when you have parents that are abusing children by using them as their—you know, devices in order to get across the border illegally, and then just dumping them out in the middle of fields."
It's unclear whether or not Banderas was referring to a specific report of migrant parents abandoning their children or simply parroting similar arguments to those used by Trump and other Republicans, who support hardline immigration policies. The president and supporters of his stance toward undocumented migrants have repeatedly argued that the predominantly Central American immigrants use children as a way to enter the country easier. Trump and GOP politicians have suggested that migrant groups often come across as "fake families" and are not actually related.
Republican Senator Chuck Grassley of Iowa even said earlier this month that migrants were "renting" babies so they could use them as a way to enter the U.S. illegally.
"People down there in Central America or Mexico are renting babies to get across the border and then sending the babies back and then renting them again to send them across the border," Grassley told reporters, according to CNN. When asked for evidence, he said that's what the acting head of the Department of Homeland Security had told him.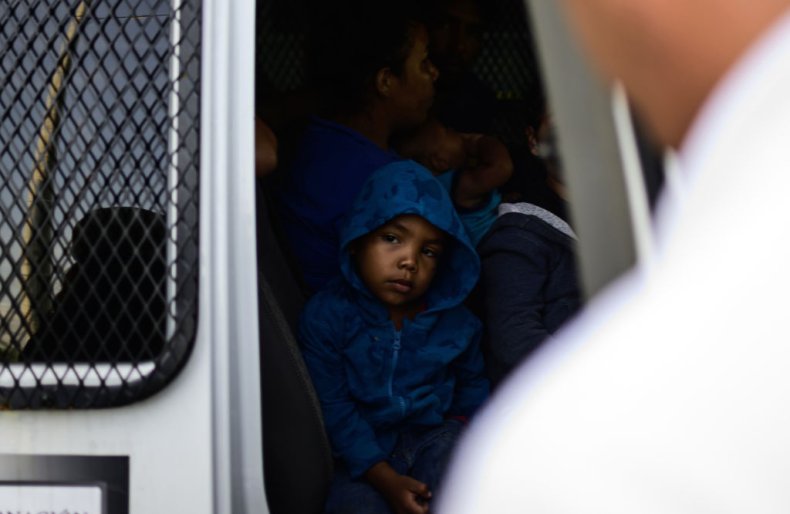 Grassley's comments appear to be highly exaggerated, however. While DHS has pointed to instances of migrants crossing the border with children who are not actually their own in hopes of being released from detention facilities quicker, this issue does not appear to be the case for the majority of families crossing the border. DHS has previously said that it is not common for migrants to use an infant in such situations.
Out of the hundreds of thousands of migrants who crossed illegally into the U.S. over the past year, immigration agents reported in April that there were only 3,100 found with fake documents. In some cases this meant that they were pretending to be parents or guardians of minors when this was not in fact the case. This also included some instances of individuals claiming to be minors, who were actually 18 or older.
Democrats, activists and aid organizations working with Central American migrants say, however, that the majority of migrants are simply fleeing economic problems and violence back in their home countries. A large number of these migrants come in legitimate family groups, seeking asylum and a better life for their children in the U.S.