A Fox News host on Friday accused migrants at the southern U.S. border with Mexico of "mocking" an unfinished portion of the border wall by walking around it.
Fox & Friends co-host Brian Kilmeade made the claim on Friday while airing Tuesday video footage from U.S. Customs and Border Protection, with the chryon, "134 migrants seen walking around border wall."
"This story is front and center today. Alarming news, surveillance video highlighting the crisis at the southern border," Kilmeade said. "Take look at this—more than 100 migrants, you see here, just mocking the wall, just walking around the unfinished wall."
Kilmeade concluded: "See, this is a reason to finish it, Congress."
Co-host Ainsley Earhardt backed up Kilmeade by saying, "Look, you can see the migrants on both sides of wall. They're just walking around it."
Fox News correspondent Griff Jenkins could be heard saying, "Yup, they're just walking around it, getting to the other side. This comes as apprehension numbers are skyrocketing and we've got 'em."
Earhardt added that the migrants were "not running, they're just walking casually right around it."
Jenkins agreed, saying, "Casually as if they're not even being bothered."
Several Fox News hosts and correspondents have criticized migrants crossing the border in the past, calling for a stop to illegal immigration, and complaining about these migrants' presence in the U.S.
Kilmeade in April claimed that "illegals" who "don't speak English" were coming to American schools.
"They dump these illegals in areas, and President [Barack] Obama did it with those unaccompanied minors, in working-class areas without telling mayors or governors," Kilmeade said. "Next thing you know, you're sitting there, and your kids come home from school, and there's 10 extra kids in the school, and they don't speak English."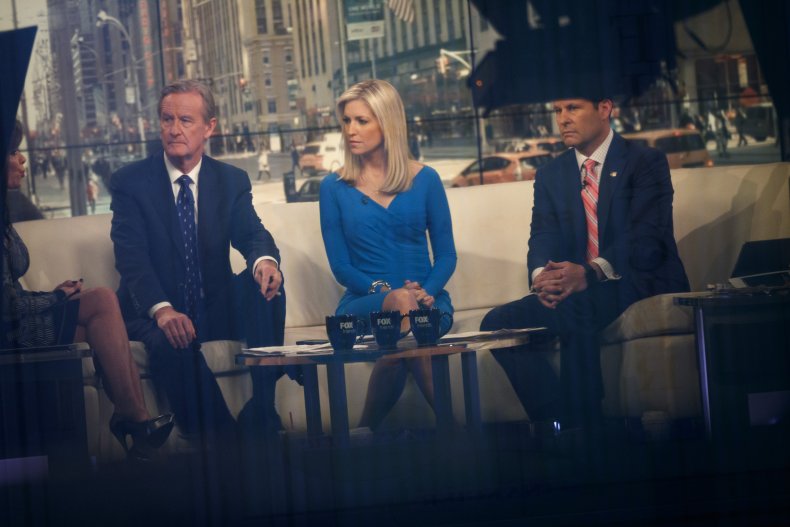 In October, as a Central American migrant caravan headed for the U.S.'s southern border, Fox News aired a segment in which Jenkins hid in the bushes waiting for migrants to cross illegally.
"We've been hiding in the bushes waiting to witness one of these crossings. They're coming right now," Jenkins said before running down a dirt path towards a river. "You can see they've got a family in a raft."
Jenkins then shouted to a man paddling the apparent migrants: "Excuse me, sir, were you trying to cross into America illegally?"
After the man paddled to the other side of the river, Jenkins accused him of being a migrant smuggler.
"This is an attempt to illegally cross, and they've gone back over there," Jenkins said. "We seem to have foiled this attempt, but officials tell us that he's probably just going to look for another spot."