Fox News's celebratory broadcast of the New Year holiday on Monday featured a surprise guest appearance from presumptive speaker of the House Nancy Pelosi (not really).
Hosts Pete Hegseth and Lisa Kennedy Montgomery (who goes by the single name Kennedy), mocked Pelosi as Kennedy pretended to be the Democratic representative from California. Kennedy did an impression of Pelosi, stiffening her body, putting on a bit of lisp and, at times inexplicably dropping into a vague Southern drawl.
"Well, you know Pete, a lot of people are upset that I took such a lavish but I tell ya my suite was only $5,000 a night. You know what I call that?" Kennedy as Pelosi said via a clip posted by Mediaite. "Crumbs. I call it crumbs."
Kennedy was poking fun at Pelosi spending the holidays in Hawaii amid the partial government shutdown, as well as Pelosi's comments in 2018 about workers getting "crumbs" under the Republican tax law.
The White House has gone after Pelosi for being in Hawaii amid the shutdown, which took effect when President Donald Trump refused to sign a spending bill that didn't include $5 billion in funding for his long-promised wall along the U.S.-Mexican border.
"First, the Democrats have to come back. Nancy Pelosi needs to come back from Hawaii, less hula, more moola for the [Department of Homeland Security], Customs and Border Patrol, funding our border security," Counselor to the President Kellyanne Conway said on Fox News on Sunday.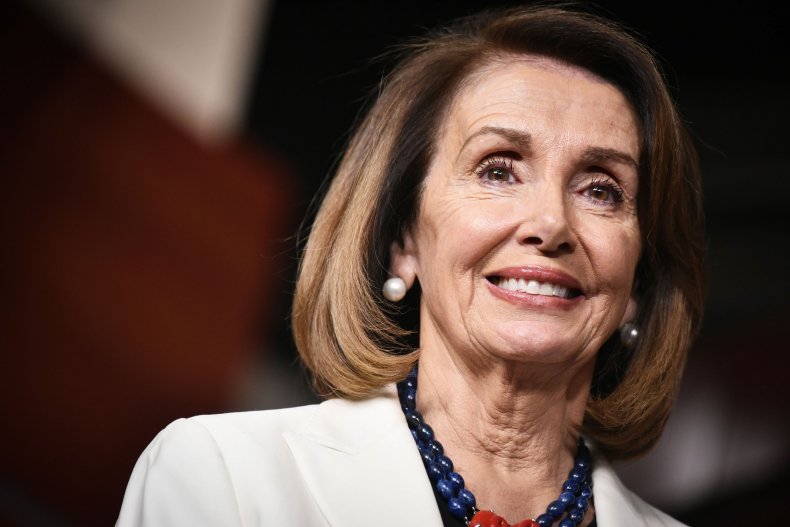 Kennedy, posing as Pelosi, portrayed her as out of touch.
"I came up with a little game to show you how in touch I am with the regular, little, stinky, dirt people," Kennedy as Pelosi said, before revealing the game to Hegseth.
"That's right," she said, via the Mediaite clip. "I had your servants pour three cheap glasses of swill—horrible wine—and I'm going to guess what each one is."
They go through having Kennedy correctly guess two different wines before drinking a third she really loves. Hegseth then informed her it was actually "the blood of freshman Democrats you'll bring to heel."
While Fox might have faked its interview with Pelosi, the New Year's broadcast did land a real phone interview with Trump. Amid the news that Democratic Massachusetts Senator Elizabeth Warren announced she had formed an exploratory 2020 committee, Trump said he wasn't worried about getting re-elected.
"I hope [Warren] gets the nomination, that will be wonderful for me," Trump said in the Fox interview. "[The Democrats] think I'm going to win, I think based on record I'm going to win, also. I think we are going to win big. They think by obstructing that they can do this."