Fox & Friends Fawn Over Pelosi and Trump Comparisons, Praise 'Clear Divide' Against Progressive 'Squad'
Fox & Friends appeared to fawn over Nancy Pelosi Monday and offered rare praise of the House Speaker, let alone any Democrat, even musing about similarities to President Donald Trump and praising Pelosi's pushback against New York congresswoman Alexandria Ocasio-Cortez.
The Monday morning Fox News crew poured over New York Times columnist Maureen Dowd's Saturday editorial piece about Pelosi in which the House Speaker offered up condescending comments about progressive House Democrats who voted against a recent border funding bill. The smitten Fox & Friends co-hosts Steve Doocy, Ainsley Earhardt and Pete Hegseth oohed and aahed at Dowd's Pelosi-Trump comparisons such as "neither one drinks, yet they have family vineyards" and that the two are both "devilishly good at trolling."
The Fox & Friends co-hosts reveled in the "clear divide" between Pelosi and "The Squad" of progressive House Democrats Ilhan Omar of Minnesota, Rashida Tlaib of Michigan, Ayanna Pressley of Massachusetts and Ocasio-Cortez.
"Nancy Pelosi in a recent article is slamming those four freshmen congresswomen for not voting [in favor of the $4.6 billion GOP border bill]," Earhardt said.
"Nancy Pelosi's problem is she is trying to -- you know she worked really hard to get the gavel back and she wants her party to be center-left, not super left. The super progressives are trying to pull it much further to the left, but she's not going to let that happen on her watch," Doocy added.
"We know precisely who those four members of Congress are," Hegseth chimed in with a sneer, even referencing "Comrade Cortez" in regards to the New York City congresswoman. He noted Ocasio-Cortez's response tweet at Pelosi bragging that she does not have to waste money on TV ads or "dialing for dollars" because she can accomplish all that using something employed less effectively by "old" members of Congress: social media.
Pelosi told Dowd, "All these people have their public whatever and their Twitter world. But they didn't have any following. They're four people and that's how many votes they got."
"That's something that Nancy Pelosi has been known to do, that she can raise money, and that's why a lot of Democrats like her," Earhardt said.
Ocasio-Cortez rebuked Pelosi on Twitter over the weekend, staking claim over "public sentiment" she believes was overlooked by the establishment Democratic House Speaker.
Earhardt relayed how Dowd claimed Democratic voters who used to call her expressing discontent with Pelosi are now calling back to say they've changed their minds, they're "sorry" and now support the House Speaker again. Doocy added, "Because [the article] talks a lot about how Nancy Pelosi is able to troll the president and really get under his skin and it has been very effective."
Noting the political figures' narcissistic tendencies, Dowd's column began, "Nancy Pelosi and Donald Trump have a lot in common. Neither one drinks, yet they have family vineyards. They both love big bowls of ice cream. Their last names are — depending on the shade of the state — curse words. Pelosi was once dubbed 'Mussolini in a skirt,' while she has compared the Donald to Il Duce, clocking their shared need to be at the center of all conversations."
Hegseth took one swipe at Pelosi, noting she "re-read the Mueller report" on July 4 as Trump led the Washington celebrations for the holiday.
"But it's a clear divide that continues to this day," Hegesth continued. "Nancy Pelosi believes she still has the votes of her caucus, while these four progressive members believe they have the pulse of the base, and it looks like, if you look at the 2020 candidates, they're going with the four who went against the funding, they're going hard-left."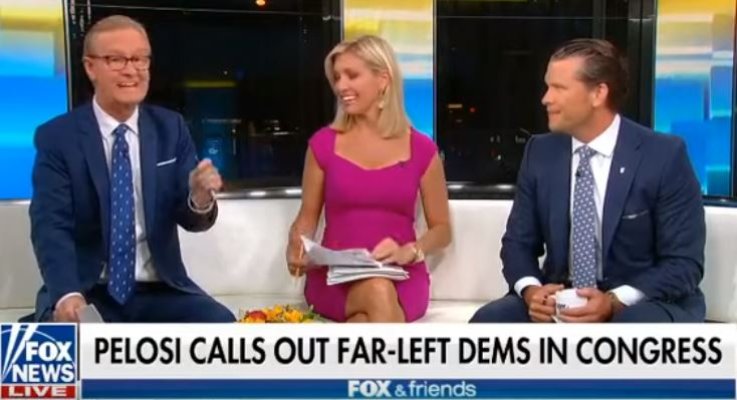 "Kamala Harris is going up, Joe Biden is going down," Earhardt concurred.
But while Fox News was praising Pelosi and Trump, the president himself was lashing out at his potentially former favorite cable news network on Sunday. Trump criticized the network and its executives for covering Democrats too much and for presenting The New York Times as a factual part of record.
"@FoxNews is changing fast, but they forgot the people who got them there!" Trump tweeted Sunday evening.
Fox & Friends Fawn Over Pelosi and Trump Comparisons, Praise 'Clear Divide' Against Progressive 'Squad' | U.S.