Fox News Show Gushes Over Trump DMZ Crossing, Play DJ Khaled's 'All I Do is Win' in Celebration
Fox & Friends hosts gushed over President Donald Trump's "historic" and "tremendous" DMZ crossover Sunday, labeling it another victory on the president's way to reelection by playing DJ Khaled's "All I Do is Win."
The Monday morning Fox News crew excitedly marked Trump's step into North Korea with Kim Jong Un and hailed his efforts to restart talks about dismantling the country's nuclear program with the communist leader. Trump became the first sitting U.S. president to step foot in North Korea and Fox News correspondent Griff Jenkins said that if President Barack Obama had made the same move it would be called "courageous" by American news media.
Fox & Friends co-hosts Brian Kilmeade and Ainsley Earhardt both joked that Trump was "blasting" the 2010 DJ Khaled song "All I Do is Win," featuring rappers T-Pain, Rick Ross, Ludacris and Snoop Dogg.
"Was this the music blasting at the DMZ?" Kilmeade asked Jenkins and Earhardt Monday morning as DJ Khaled's song played in the studio.
"Yes it was," Earhardt replied, as Kilmeade quipped, "I didn't know that."
"All I do is win," Earhardt added with a smile. She went on to recount her own personal experience watching what she labeled a "historic" event.

"I'm watching TV, I'm watching Fox, because I want to make sure that I keep myself up to date with everything," Earhardt said Monday. "And I'm watching the breaking news of our president walking across and through the DMZ into North Korea -- the first time a sitting president has ever done this. This is a huge win...This is the way to negotiate."
"It makes him look like a deal maker," she added.
The Fox News figures echoed Trump's own remarks to The New York Times Sunday that he is a "sleeper" on foreign policy, comparing him to a bad NBA draft pick that turns into a "superstar" on the world stage. They said his "unorthodox" methods are clearly working to appease and potentially negotiate with Kim as they lauded Trump's walk across the DMZ.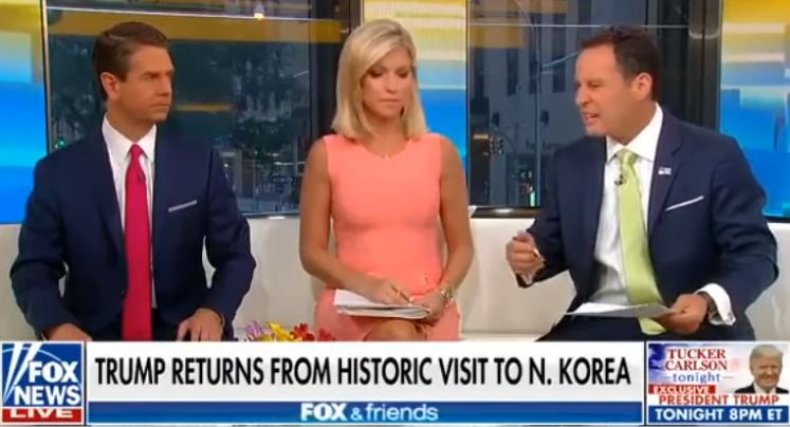 Both Kilmeade and Jenkins expressed their excitement at all of the photographers and their own Fox News colleague, Tucker Carlson, being in the region to cover the events and they noted "it wasn't just a photo opp" and that Trump spoke to Kim for 53 minutes.

"A military option is just not on the table," Kilmeade said.

Former White House Director of Communications Anthony Scaramucci also appeared on the program Monday, saying both Trump and new White House press secretary Stephanie Grisham will not likely receive any credit from the U.S. news media because they are so "antagonistic" against the president.
Several American and international outlets praised Grisham for helping press gain access to the ongoing meetings between Trump and the notoriously secretive Kim regime Sunday, according to reporters with the Associated Press and The Washington Post.
In terms of Trump, Scaramucci appeared to be correct about Sunday's coverage, as HBO Last Week Tonight host John Oliver remarked, "Maybe Trump's mantra going forward should be, 'Treat women with the same respect you show murderous autocrats.' He's growing. Good for him."
Scaramucci claimed Trump is "arguably the most transparent president in the past 30 years...This is tremendous. The guy is trying to forge peace. You don't like he stepped into North Korea? Too bad, he's a rules breaker, he's trying to create peace."
Both Trump and Kim touted their own meeting at the DMZ: "This has a lot of significance because it means that we want to bring an end to the unpleasant past and try to create a new future, so it's a very courageous and determined act," Kim told reporters through a translator.
"So many amazing things happened over the last three days. All, or at least most of those things, are great for the United States. Much was accomplished!" Trump tweeted Sunday
Although Kilmeade mentioned that several high stakes problems continue to exist between the U.S. and North Korea, none of the hosts mentioned the international accusations of horrendous human rights abuses allegedly occurring under Kim's regime.