Fox News Panel Agree Pelosi Has 'Every Right' to Hold Trump Articles of Impeachment From Senate
During a Thursday Fox News Live Alert, a panel discussion of correspondents generally agreed that House Speaker Nancy Pelosi has "every right" to withhold the articles of impeachment from the senate, but ultimately disagreed over her motives and her level of impartiality.
Panel leader Julie Banderas opened the discussion by mentioning a tweet from President Donald Trump sent over the Christmas holiday in which he said that Pelosi was narrowly voted in as Speaker of the House.
"It still gives the Democrats every right though, according to the Constitution, to impeach the president. That's why there's a checks and balances system," Banderas observed.
After Democrats had to accept in 2016 that Donald Trump was elected president, conversely, Republicans had to accept that Democrats hold the House majority, former Ohio state senator Capri Cafaro said, "Right now, Speaker Pelosi is holding on to them because she thinks that holding on to them and not giving them to the Senate is going to give some leverage. I do believe it is her right to hold on to them, no different than any legislative process from where you have to send that message from one chamber to the other."
"This is about Nancy Pelosi not holding herself or her fellow Democrats to their own standards," Fox News contributor Katie Pavlich said. She added that Pelosi had "repeatedly" said the impeachment process had to be bipartisan and that it was bad for the country but there's "no bipartisan support in the Senate" for the impeachment. "She's violating basic American principles of a speedy trial when you're accused of a crime."
"It's probably going to be dead on arrival in the Senate," Carley Shimkus said, and then described Pelosi's behavior as "shady" for withholding the articles and said she was stalling the case to gather additional evidence.
"She does not have the right or even the power to tell the Senate what to do once they received them," Pavlich said.
"The White House declined to be engaged in the House Judiciary Committee," Cafaro said.
"That's an issue of separation of powers," Pavlich said. "The executive branch has the ability to say no and if you want to fight it out, go through the court system."
Speaker Pelosi is holding back the articles of impeachment until, as quoted by The Washington Post, Democrats are told "what sort of trial the Senate will conduct."
Senate Majority Leader Mitch McConnell called Pelosi's measure "absurd" on Monday, according to the same Washington Post article.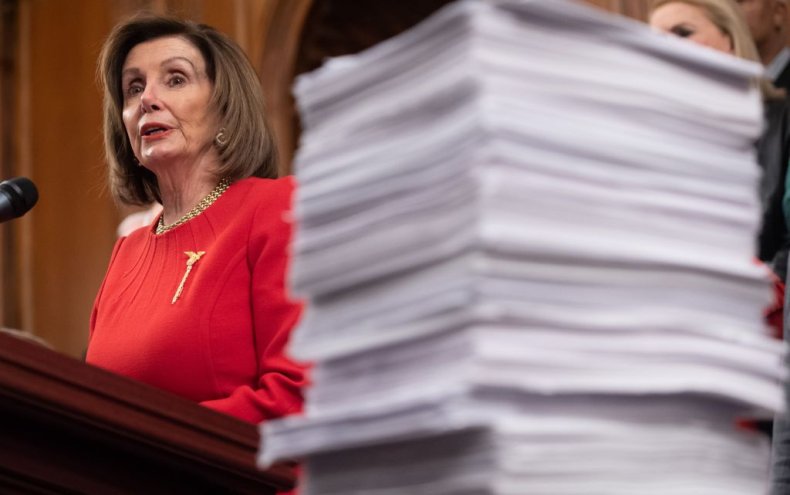 Trump remains under fire for allegedly asking Ukrainian President Volodymyr Zelenskiy to commit to a "quid pro quo" trade with America during a July telephone call. Trump is said to have threatened to withhold military aid that had already been approved by Congress, unless Zelenskiy provided the president with information on former Vice President Joe Biden and his son Hunter involving their alleged dealings with the Ukrainian gas company Burisma. Trump claims Biden used his power as vice president to have an investigation into Burisma killed, an accusation that has not yet been proven. Trump also wanted a theory that Kiev interfered in the 2016 election on the behalf of Hillary Clinton investigated.
A whistleblower report by an anonymous individual who listened in on the call resulted in the conversation being investigated and eventually an impeachment hearing in the House.
On December 18, President Trump became the third American president be impeached in the country's history. Last Monday, an email from White House official Michael Duffy requesting aid be withheld from the Ukraine was made public. The request from Duffy came 91 minutes after the quid pro quo request was allegedly made from Trump to Zelenskiy. The White House says the timing of the call and email is a coincidence. Trump continues to deny any wrongdoing in the matter.
Newsweek sent a request for comment to the Speaker of the House but did not hear back by press time.