Fox News Panel On Climate Change Says Liberals Have 'Forgotten About God,' Are 'Worshipping the Environment Instead'
A Fox News segment Thursday about climate change turned into harsh criticism of liberals and 16-year-old climate change activist Greta Thunberg. The panel said liberals have replaced religion with climate change, have "forgotten about God" and are "worshipping the environment instead."
The segment aired during Fox News' daytime talk show Outnumbered, which features four female panelists and "#OneLuckyGuy," according to the show's website. Thursday's "lucky guy" was conservative pundit Buck Sexton, who said the Democratic presidential candidates' response to climate change, with some suggesting a ban on straws and to eat less red meat, wouldn't work with the American electorate. He then pivoted his argument to liberals.
"Climate change is a religious belief for people who think they're too smart for religion," Sexton said.
Outnumbered co-host Melissa Francis piggybacked on the religious switcheroo Sexton says liberals are doing with the environment.
"They've got Catholic guilt and they're going to confession," Francis responded. "But they just have forgotten about God, so they're worshipping the environment instead," she added.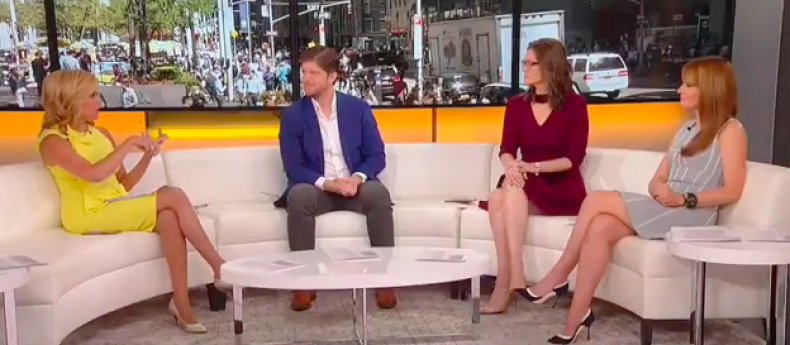 She went on to say she's seen the replacement of religion for environmentalism for a long time, especially in schools.
"You see it in kids with school," Francis said. "One of my kids, their class said that their motto was 'Treat myself well, treat my friends well, respect the environment.' And I was like, that's 'Love your neighbor as yourself and God above all things.' It's the same thing, you just replace who's in there."
Sexton then added that the biggest weakness for advocates of climate change awareness is the spokespeople, including Thunberg, who testified before Congress Tuesday and urged lawmakers to "listen to scientists."
"The biggest weakness this stuff always has is the spokespersons for this movement," Sexton said. "They also have this young girl who is, what, 16? We gonna ask her about the Fed rate next?"
Immediately the rest of the panel pushed back against Sexton, "No picking on children," the women replied.
"But she's testifying about climate change in front of Congress," Sexton said, denying he was picking on her.
Co-host Jessica Tarlov then added that Thunberg is a "kid who is more alert to the challenges facing our planet than a great number of people."
Thunberg, from Sweden, has become a prominent international climate change activist. In 2018 she testified before the Swedish parliament about the issue and in May 2019 she appeared on the cover of Time magazine.
"I am submitting this report as my testimony because I don't want you to listen to me," Thunberg told American lawmakers Tuesday, referring to the Intergovernmental Panel on Climate Change's 2018 Special Report on Global Warming. "I want you to listen to the scientists. And I want you to unite behind the science. And then I want you to take action."
NASA, an independent agency of the federal government, says that 97 percent of leading scientists agree that humans are causing global warming and impacting climate change.
"In the absence of major action to reduce emissions, global temperature is on track to rise by an average of 6 °C (10.8 °F), according to the latest estimates," NASA's section on global climate change reads. "Some scientists argue a 'global disaster' is already unfolding at the poles of the planet; the Arctic, for example, may be ice-free at the end of the summer melt season within just a few years."