Fox News Panel Reacts After Bolton Texts Host Live to Dispute Trump's Tweet: 'Why Are They Doing' This?
A Fox News panel appeared to reacted with confusion on Tuesday after National Security Adviser John Bolton texted host Brian Kilmeade live on air to dispute President Donald Trump's claim that he was fired.
Earlier today, Bolton insisted he resigned from his position at the White House, despite the president implying in a tweet that he was fired from the Trump administration. "I informed John Bolton last night that his services are no longer needed at the White House," Trump tweeted. "I asked John for his resignation, which was given to me this morning. I thank John very much for his service."
Bolton attempted to clarify his position roughly 12 minutes after the president's announced his exit, tweeting: "I offered to resign last night and President Trump said, 'Let's talk about it tomorrow.'"
During a segment on Fox News' Outnumbered on Tuesday, Kilmeade told a panel that Bolton just texted him to assert that he resigned. "John Bolton just texted me. Just now. He's watching. He said, 'let's be clear ⁠— I resigned,'" he said. "And I said, 'Do you mind if I say that?' while you were talking. And he wrote, 'Yes.'"
"So, John Bolton has just told me, he texted me, to say that, 'I resigned,'" Kilmeade reiterated.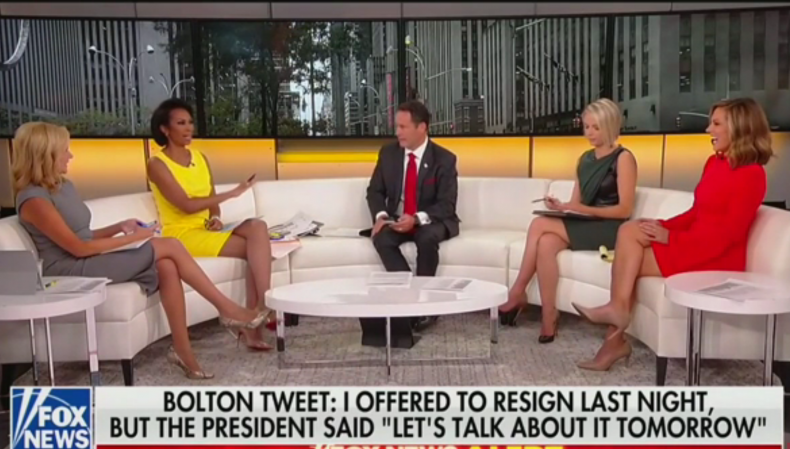 Fox News' Harris Faulkner, appeared to be confused as to why Bolton and Trump are disputing the terms of the former's exit from the White House.
"Why are we doing this?" she said. "I know why we're doing it, it's a talk show, it's breaking news. But why are they doing it?"
"Why are we seeing this play one against the other almost in terms of, you know, what the narrative is?" Faulkner continued. "Is it important, or is it just that the president has moved on and he's going to hire a new national security adviser? I mean that's the news right?"
"If anyone leaves a position and you shake hands with the CEO and say, 'Thanks for my time here.' And they come out and say, 'I fired him' or 'I said, I want your resignation,' you'd want to correct the record," Kilmeade responded.
He added: "I don't think there's any angst. Let me just correct the record — I resigned. The president just tweeted out prior to that that 'I asked him for his resignation.'"
Bolton's — who has served as Trump's national security adviser since April 2018 — leave comes after he reportedly opposed a secret planned meeting between the president and Taliban leaders this week at Camp David because he was concerned that its timing fell on the same week as the anniversary of 9/11.