Fox News Pastor Highlights Trump's 'Sacrifices' for His Country in Eulogy to Former POW John McCain
A prominent pastor and Fox News contributor spoke on Sunday of the "sacrifices" President Donald Trump had made for the United States, comparing him favorably with Senator John McCain, a Trump enemy, who died on Saturday after a battle with brain cancer.
Appearing on Fox & Friends on Sunday, Pastor Robert Jeffress said, "They both are men of conviction.
"We shouldn't condemn either one for standing up for their convictions," Jeffress said.
The Texas pastor suggested Trump had sacrificed as much as McCain, who served in the Naval Air Forces during the Vietnam War. McCain was captured, tortured and held as a prisoner of war for more than five years, from 1968 to 1973. Two of those years were also spent in solitary confinement.
"Our great president, President Trump, and every president who went before him as well, makes sacrifices as well serving this country," Jeffress said.
The president, who did not serve in Vietnam, citing bone spurs in his feet as a reason for one of five deferments, had previously criticized McCain's military service.
"He's not a war hero," Trump, who had recently announced his presidential campaign, said in 2015. "He was a war hero because he was captured. I like people who weren't captured."
At the time, leading Republican politicians rallied around McCain, criticizing Trump for attacking such a prominent veteran. Trump and McCain continued to spar publicly over a range of issues, including health care, Russia and North Korea. Last Tuesday, the president attacked the dying senator during a rally in West Virginia for casting the decisive vote that stopped the repeal of the Affordable Care Act.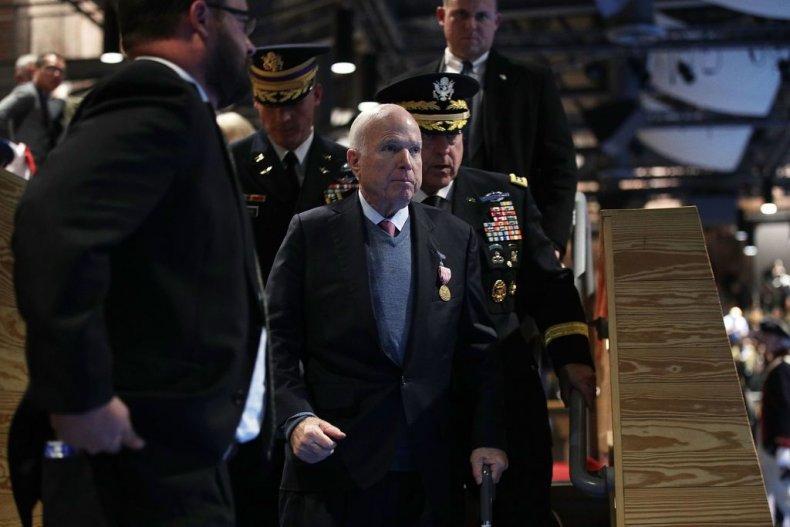 Despite the tensions between the two men, Jeffress used his time on Fox & Friends to draw parallels between them and promote a positive image of Trump. He also argued that Americans should "emulate" their leaders because God wants them to.
"The Bible says we ought to honor our leaders, we ought to pray for them, and we ought to emulate their examples where appropriate," he told the hosts.
The pastor did, however, use the early part of his appearance to say a few positive words about McCain without discussing Trump or politics.
"I think John McCain was able to look back on his life with a few regrets but also with the knowledge that he had served his country, that he had served his family well," Jeffress said.
"And that's how you want to end your life. With few regrets."