Fox News Judge Says Paul Manafort Could Get 'So Much Jail Time' That He Might Be a 'Candidate for a Pardon'
Former Trump campaign manager Paul Manafort could be a candidate for a pardon from President Donald Trump if he gets a hefty jail sentence, a Fox News legal analyst said Thursday after a federal judge ruled that Manafort lied and violated his plea deal.
Judge Andrew Napolitano, a senior judicial analyst for the network, shared his view after Fox & Friends co-host Brian Kilmeade asked him to weigh in on how Manafort's "deal blew up because he wasn't being candid with the Mueller investigation."
"Here's what they did with Paul Manafort. I've never heard of this before," Napolitano said. "They had him testify before the same grand jury that indicted him and then a federal judge found that he lied to that grand jury."
Kilmeade followed up, "Not on all counts though, right?"
Manafort was convicted in August of eight felonies including five counts of tax fraud, two counts of bank fraud and one count of failing to disclose reports of foreign financial and bank accounts.
On Wednesday, U.S. District Court Judge Amy Berman Jackson found that Manafort breached his plea deal with Russia probe special counsel Robert Mueller by making "multiple false statements" to Mueller's office, a grand jury and federal investigators. Jackson said there was evidence that Manafort lied about his contact with a Russian political consultant and other matters.
Napolitano replied to Kilmeade that of the five alleged lies, the judge found that Manafort committed three.
"This tells me, A, he's exposed to more than 20 years in jail," Napolitano said of Manafort. "That is so much jail time he might very well be a candidate for a pardon, and the public might accept the pardon."
Kilmeade noted that Manafort is 69 years old, seeming to suggest that such a sentence could mean Manafort would spend the rest of his life behind bars.
"It also tells me, B, Mueller is still on the hunt," Napolitano concluded.
An American Barometer poll shortly after Manafort's conviction last summer revealed the public did not favor a presidential pardon.
Only 17 percent of American voters said they would approve of Trump using his pardon power on Manafort, while close to half, 49 percent, disapproved and 34 percent were not sure, the poll conducted by Hill.TV and the HarrisX polling company showed.
Manafort did not get much sympathy, even from Republicans. A mere 31 percent of Republicans said they would approve of Trump pardoning Manafort, while nearly the same, 26 percent, indicated they would disapprove. Only 12 percent of Democrats approved of a pardon, while 75 percent disapproved.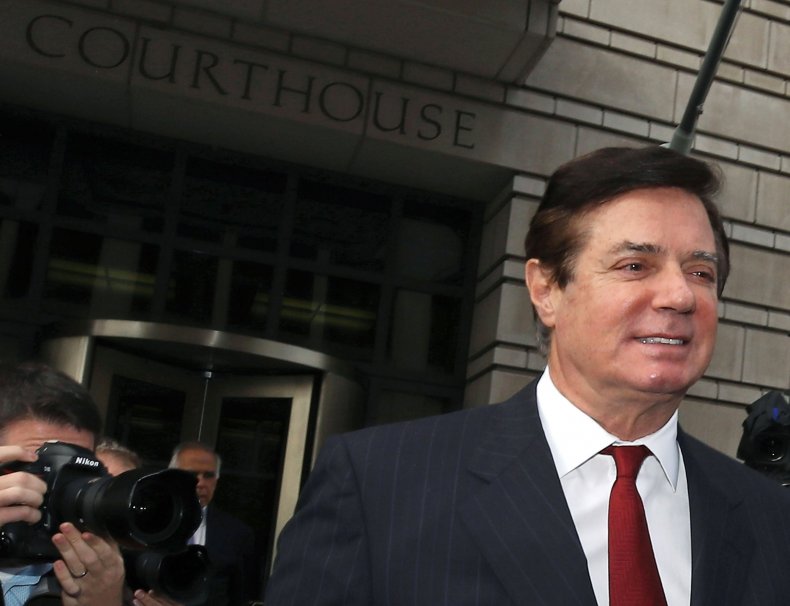 Trump's lawyer Rudy Giuliani in June, hours after a judge revoked Manafort's bail and sent him to jail until his trial, said, "When this whole thing is over, things might get cleaned up with some presidential pardons."