Fox News Hosts Blast Pete Buttigieg After Donald Trump Criticizes Network for Favorable Town Hall
Fox & Friends' co-hosts performed damage control Monday after their network hosted South Bend, Indiana, Mayor Pete Buttigieg for a town hall that saw him exalted while Fox News was dragged by President Donald Trump.
Trump blasted his favorite cable news network Sunday for airing the town hall hosted by Fox News anchor Chris Wallace, which featured 2020 candidate Buttigieg pitching his platform and even receiving a standing round of applause from New Hampshire attendees. But the Fox & Friends hosts went on the offensive for the president Monday, ridiculing Buttigieg for having inserted "friends" into the audience and painting him as yet another "socialist" running for president. Buttigieg told Wallace he didn't care what Trump tweeted, but it appeared Monday that the Fox & Friends were very affected.
Co-host Brian Kilmeade warned Buttigieg against coming on his network and insulting primetime right-wing hosts such as Tucker Carlson and Laura Ingraham. At one point, Buttigieg said Fox News allowed its opinion hosts to "uncritically amplify hate" on the air.
"Don't hop on our channel and continue to put down the other hosts on the channel," an offended Kilmeade warned Buttigieg. "If you feel that negative about it, don't come. Because for him to go out there and take shots at our prime-time lineup without going on our prime-time lineup, shows to me absolutely no courage."
Ainsley Earhardt later weighed in, swiping at Buttigieg's policies and questioning his seemingly kind personality. "He's extremely progressive—he wants to get rid of the Electoral College?" she noted.
"He sounds like a nice guy, but do you agree with his policies? He wants four different tax hikes, he says 'fairer' means higher, abolish the Electoral College, a woman can choose to have an abortion all the way up to the very end, it's her decision," Earhardt said, adding that New Hampshire votes would matter even less without the system.
"In New Hampshire, which would diminish their effectiveness, but people clapped loudly when he said that," a stunned Steve Doocy told his fellow co-hosts.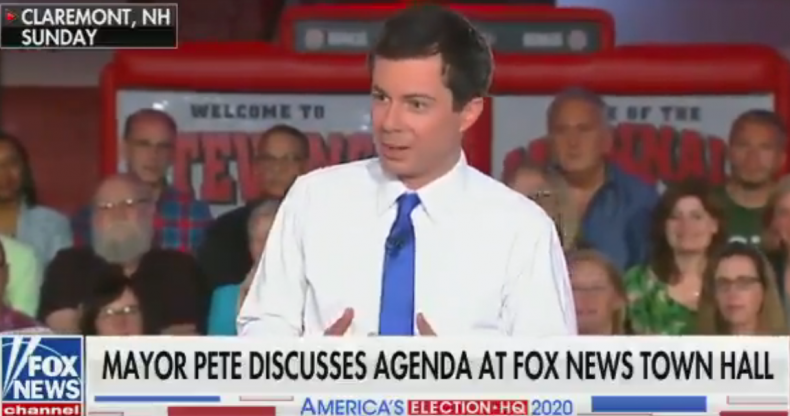 "Well, because they're all his friends, I think he's related to the whole audience," Kilmeade shot back, offering zero evidence for the odd conspiratorial claim.
GOP pollster and Fox News guest Chris Wilson told Earhardt that "it was a smart move" for Buttigieg to come on the network, but then falsely claimed that candidates such as Massachusetts Democrat Elizabeth Warren "attacked all of Fox News viewers," given her refusal last week to add to the cable news networks' ratings and advertising money.
On Sunday, Trump lashed out at Fox News and Wallace for not providing him with more flattering coverage and for offering his 2020 opponents airtime.
"Hard to believe that @FoxNews is wasting airtime on Mayor Pete, as Chris Wallace likes to call him. Fox is moving more and more to the losing (wrong) side in covering the Dems. They got dumped from the Democrats boring debates, and they just want in," Trump tweeted Sunday. "They forgot the people who got them there. Chris Wallace said, 'I actually think, whether you like his opinions or not, that Mayor Pete has a lot of substance...fascinating biography.' Gee, he never speaks well of me - I like Mike Wallace better...and Alfred E. Newman will never be President!"
Asked during the town hall about Trump's tweets, Buttigieg replied: "I don't care...it's the nature of grotesque things that you can't look away."
Kilmeade offered several confused rebukes against Buttigieg as a person and as a candidate, claiming, "The other thing that was flat-out wrong is that the tax cuts were for rich; they weren't. The biggest cuts were corporate taxes to make us more competitive around the world, and they have worked."