Fox News' Peter Doocy and Jen Psaki Spar Over Network's Access to Biden
Fox News' Peter Doocy and White House press secretary Jen Psaki sparred Friday over the network's access to President Joe Biden.
During Psaki's press briefing, Doocy asked, "We noticed, starting at the end of the campaign and then into the transition and here at the White House, anytime the president has an event where he is given a list of reporters to call on, Fox is the only member of the five-network TV pool that has never been on the list in front of the president, and I'm just curious if that is official administration policy."
Psaki replied, "We're here having a conversation aren't we?" Psaki added that she has taken questions from Doocy during her press briefings, as has Biden during his live appearances.
"Unfortunately, only when I have shouted after he goes through his whole list, and the president has been very generous with his time with Fox. I'm just curious about this list that he is given," Doocy said. He noted again that Fox has been the only member of the five-network TV pool that hasn't been called on by Biden.
Psaki then told Doocy that she's always "happy to have this conversation with" him, adding that the president has taken Doocy's questions.
The exchange between Doocy and Psaki comes after the Fox reporter was not given a chance to ask Biden a question Thursday during his first presidential press conference.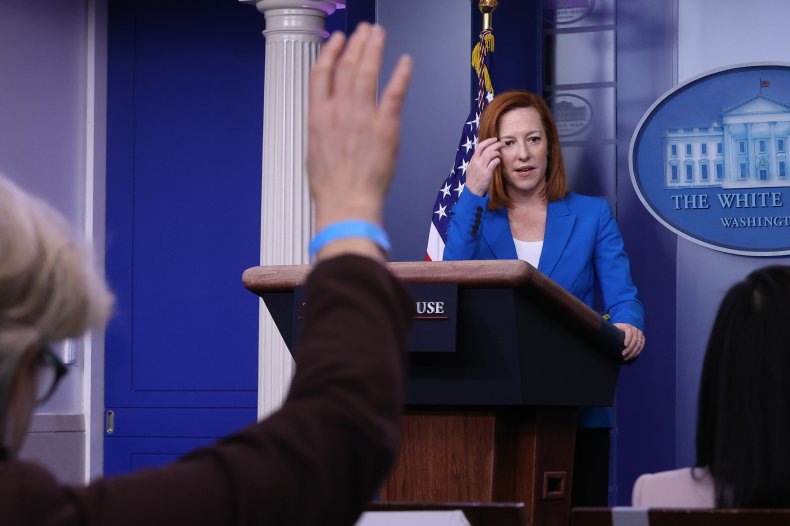 Appearing on Fox News after Biden's press conference, Doocy said he had a number of questions he was unable to ask the president.
"I mentioned last night...that I had a binder full of questions. I think some people were kidding. I was not," Doocy said. "We had a lot, and most of this stuff [the president] did not get to."
Doocy continued, "Nobody ever asked [Biden] about this big plan that he's got, this big idea to completely transform the economy to make it all green. That is something we we're hoping to get on the board with, and there was really not a lot of questions about COVID, particularly the investigation into the origins of it."
After Newsweek reached out to Fox News for comment, it was directed to remarks made by network anchor John Roberts, who called the interaction between Doocy and Psaki "absolute hogwash."
"[Doocy] has never been on the list. He has only gotten questions when he has shouted them at the president," Roberts said.
The White House directed Newsweek to the transcript of the White House press briefing and the comments Psaki made during it.
This story was updated at 2:08 p.m. to include more information about the exchange between Jen Psaki and Peter Doocy.