Fox News Poll Shows Americans See Shutdown as Bigger Emergency Than Border Situation
A new Fox News poll found that more registered American voters see the partial government shutdown as an emergency or major problem than the situation at the United States' southern border with Mexico.
Three-fourths, or 75 percent, of voters said the shutdown is an emergency or major problem, with 27 percent considering it an emergency and 48 percent seeing it as a major problem, according to the poll released Wednesday evening.
By comparison, 59 percent of voters said the country's situation at the border an emergency or a major problem, with 22 percent calling it an emergency and 37 percent considering it a major problem.
A high percentage of voters across party lines saw the shutdown as an emergency or major problem—81 percent of Democrats and 74 percent of Republicans. There was a partisan divide on the border situation, with 87 percent of Republicans describing it as an emergency or major problem compared to only 37 percent of Democrats.
The longest government shutdown in the country's history entered its 34th day on Thursday, as Trump stands firm on his demand for $5.7 billion to fund his wall and Democrats refuse to provide it. Trump has talked of declaring the situation at the southern border a national emergency, but so far has refrained from doing so.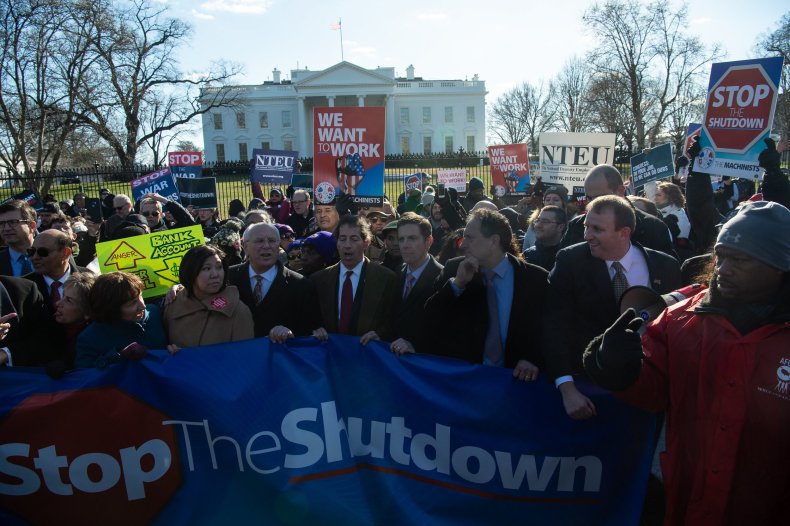 But the poll shows that the majority of voters, 56 percent, would oppose Trump bypassing Congress and declaring a national emergency at the border that would give him the executive power to build the wall without congressional approval. Only 36 percent said they would support Trump declaring a national emergency.
Though more Americans see the shutdown as a bigger issue than the border situation, support has grown for Trump's wall in recent days. In the new poll, 43 percent of voters said they favor the wall, up from 39 percent of voters in September. Opposition to the wall was unchanged in that time period, at 51 percent.
Wall supporters are more adamant about riding out the shutdown for their demand than giving up and opening government. More than two-thirds, 69 percent, of pro-wall voters want Trump to stick it out until Democrats give in, while about one-third, 37 percent, of anti-wall voters want Democrats to keep the government shut until the president concedes.
"One interesting dynamic is the pro-wall people are much more likely to want to go the distance on the shutdown than the anti-wall people," Republican pollster Daron Shaw, who conducted the Fox News poll with Democrat Chris Anderson, stated in the network's report. "It seems the Democrats would pay a lesser price for compromising."
The poll was conducted from January 20 to 22 among 1,008 registered voters, and had a margin of error of plus or minus three percentage points.
Though Fox News consistently favors Trump and his policies, the conservative network has disagreed with him regarding the souther border on at least one occasion. Earlier this month, Fox & Friends co-host Brian Kilmeade said Trump declaring a national emergency would be "bad," as it would likely be challenged in court and set a dangerous precedent for future presidents.