Fox News Poll Shows Biden With Single-Digit Lead in 3 Battleground States
Democratic presidential candidate Joe Biden is ahead of President Donald Trump in polls conducted by Fox News in 3 states where Trump gained victories during the 2016 presidential election.
Biden is leading Trump in Arizona, Wisconsin and North Carolina, three battleground states viewed as highly important by both campaigns. Trump's wins in those states helped him defeat Hillary Clinton in his initial presidential run. Those wins were hard-fought. In North Carolina and Arizona, Trump won by roughly 4 points. In Wisconsin, he defeated Clinton by less than one percentage point.
Data released Wednesday by Fox News indicates that Biden holds a lead of 9 percentage points over Trump in Arizona. Overall, the ticket of Biden and California Senator Kamala Harris garnered 49 percent of likely voters' support while Trump and Vice President Mike Pence held 40 percent of the support of likely voters.
Biden's lead increases among Arizona's registered voters. While Trump earned 39 percent of the support of registered voters, the Biden-Harris ticket led the Republicans by 10 percentage points, coming in with 49 percent of registered voters' support.
Trump's overall approval rating was nearly the same among Arizona's likely and registered voters. Out of the registered voters who responded to the poll, 42 percent approved of Trump's presidential performance while 43 percent of those who indicated they were likely to vote approved of the job Trump is doing.
Half of Wisconsin's likely voters would vote for Biden if the election were held today. In the poll, the Biden-Harris ticket received 50 percent while the Trump-Pence ticket received 42 percent, a difference of 8 percentage points.
Biden's lead among registered voters in Wisconsin remained the same with 49 percent giving the nod to Biden and Harris. Trump and Pence garnered 41 points among the same demographic, giving the Democrats another 8 point lead.
Trump's approval rating remained constant between registered and likely voters in Wisconsin with the president receiving 45 percent.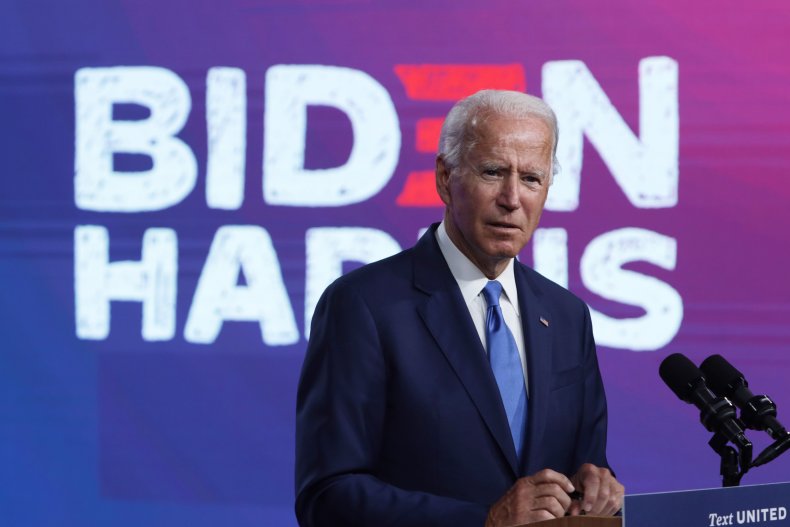 Wednesday's data indicated a tighter race in North Carolina with only 4 percentage points separating the Republican and Democratic tickets.
Biden and Harris held the support of 50 percent of North Carolina's likely voters with Trump and Pence receiving 46 percent. Registered voters gave the Democrats 49 percent of their support while handing Trump and Pence 45 percent of their support. Although the numbers between registered and likely voters shifted slightly according to party, the span between the two remained at 4 points.
Only 1 percentage point separates those who participated in the poll on their opinion concerning Trump's performance as president. Both registered and likely voters approved of Trump's performance by 49 percent while 50 percent disapproved.
Newsweek reached out to both the Trump and Biden campaigns for comment.
Polls in all three states carried a margin of error of plus or minus 3.5 percentage points.
Both campaigns have placed a focus on Wisconsin, particularly the city of Kenosha where protests erupted after the police shooting of Jacob Blake. Biden is expected to visit Kenosha on Thursday.
Trump visited Kenosha on Tuesday to survey the damage left after civil unrest. Some lawmakers had encouraged Trump to delay his visit.
"Some people thought it would be a good thing for me to come, a bad thing," Trump said during his visit. "I just wanted to come. I really came today to thank law enforcement."