Fox News Poll Shows Biden Dead Even With Trump if 2020 Election Was Held Today
President Donald Trump and Joe Biden would be locked in a tie if the 2020 election was held today, according to a new poll.
The survey, conducted by Fox News, found the two candidates dead even at 42 percent support apiece. The poll was completed from April 4 to April 7 and surveyed more than 1,100 registered voters.
It was Biden's lowest performance in a Fox News poll since the fall of 2019. The former vice president had a seven-point lead over Trump in similar surveys conducted in February and March. In January, Biden reached 50 percent support from registered voters compared with Trump's 41 percent support.
President Trump, on the other hand, had his best hypothetical match-up performance in months. His 42 percent support from voters is his highest in a Fox News survey since October 2019, though voters were still split on his overall job performance. Forty-nine percent approved and 49 percent disapproved of how he's handled his role as commander-in-chief.
A Biden-Trump showdown appears to be the most likely outcome of the 2020 election cycle. Biden essentially became the de facto Democratic nominee earlier this week after his only remaining rival, Vermont Senator Bernie Sanders, dropped his presidential bid.
"Together we will defeat Donald Trump. And when we do that, we'll not only do the hard work of rebuilding this nation—we'll transform it," the former vice president wrote in a statement shortly after Sanders exited the race.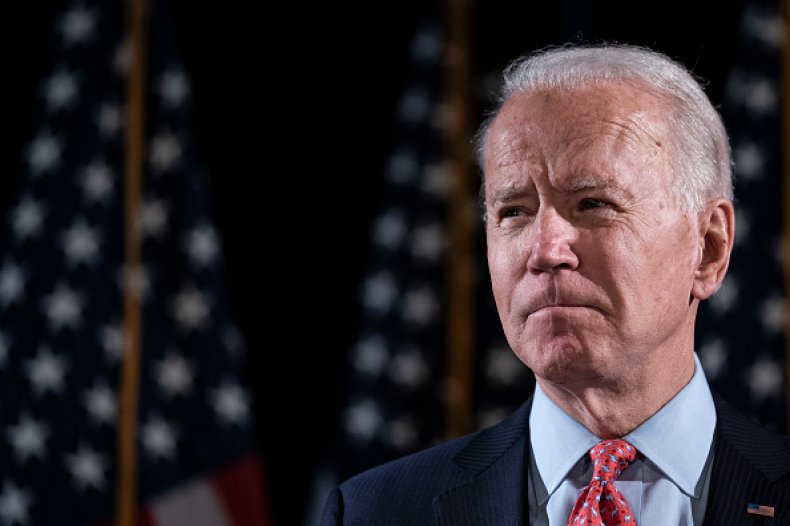 It didn't take long after Sanders dropped out for President Trump to begin his attacks on Biden. During his daily coronavirus press briefing on Wednesday, Trump questioned why former President Barack Obama had not endorsed Biden.
"He feels something is wrong," Trump suggested. "It does amaze me that President Obama hasn't supported Sleepy Joe. It just hasn't happened. When's it gonna happen? Why isn't he? He knows something that you don't know, that I think I know, that you don't know."
Trump's re-election campaign also put out a statement after Sanders bowed out, in which it called Biden a candidate that the president "will destroy in November."
"President Trump is still disrupting Washington, D.C., while Biden represents the old, tired way and continuing to coddle the communist regime in China. Democrat elites shoved Bernie Sanders to the side for a second time, leaving many of his supporters looking for a new home," said campaign manager Brad Parscale.
While Trump and Biden will likely go head-to-head on Election Day, the Fox News poll showed that voters don't view either candidate too favorably.
Biden had a net positive rating by one point as 48 percent of those polled viewed him favorably and 47 percent viewed him unfavorably. Trump was underwater by three points, as 50 percent of voters found him unfavorable and 47 percent viewed him favorably.