Fox News Poll Shows Near-Record Disapproval Rating for Trump After Mass Shootings
Donald Trump's disapproval rating soared to 56 percent in a Fox News poll released this week, just one percent off the network's record high for the president.
The poll, published on Wednesday, showed a five percent increase in the president's disapproval rating from last month's figures, with 56 percent of voters disapproving of Trump's performance. In July, the president's disapproval rating was at 51 percent. According to Fox News, Trump's disapproval rating has only been higher once before, in October 2017, when it was at 57 percent.
Trump's approval rating also dropped from 46 percent last month to 43 percent.
Conducted August 11-13, 2019, the Fox News poll interviewed 1,013 randomly chosen registered voters nationwide roughly one week after two deadly mass shootings in America left 31 dead and dozens more injured.
A gunman, identified as 21-year-old Patrick Crusius, opened fire at a Walmart in El Paso, Texas earlier this month, killing 22 and injuring dozens more. Authorities are investigating a manifesto allegedly written by the shooter that contains anti-immigration rhetoric and sympathy for the Christchurch gunman, who was involved in deadly attacks on New Zealand mosques earlier this year. Hours later, another shooter killed nine in Dayton, Ohio.
Democrats and Trump critics have sparred with Republicans and the president's supporters in recent weeks over whether his inflammatory racial rhetoric had effectively contributed to the hate and violence in the El Paso shooting.
The hashtags #TrumpsTerrorists and #GunControlNow began trending on Twitter in the hours and days following the attacks, with tens of thousands of Americans blaming the president for the shootings and calling on lawmakers to enact legislative change to better protect the country.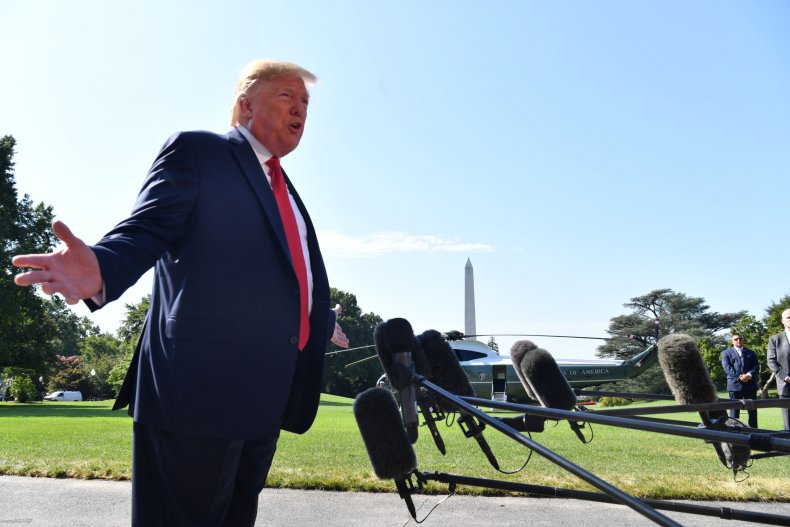 According to the Fox News poll, 34 percent of respondents blamed Trump's inflammatory sentiments for the attacks, while less than a quarter pointed to video games and Democratic sentiments as contributing factors.
After voters were asked to state a reason for the high occurrences of mass shootings in the U.S. compared to other countries, "access to guns," "mental health issues" and "Trump rhetoric" were listed as the top three responses, with 35 percent, 22 percent and 10 percent respectively.
46 percent of voters said the Trump administration has made the U.S. less safe from mass shootings, while only 15 percent believed the administration has made the country safer.
In the aftermath of the shootings, Trump responded to the attacks by asserting that "hate has no place in our country," before then vowing that his administration will "take care of it," without explaining how or setting out concrete steps to tackle gun violence.
The president also claimed that his administration has "done much more than most" on the issue, but admitted that "perhaps more has to be done."
According to the poll, 37 percent of respondents approved of Trump's response to the shootings.
The Fox News poll has a margin of sampling error of plus or minus three percentage points.