Fox News Poll Shows Voters in PA, OH and NV Trust Biden Over Trump on SCOTUS Nomination
A new Fox News poll shows voters in the three key swing states of Pennsylvania, Ohio and Nevada, saying they trust Democratic presidential candidate Joe Biden over President Donald Trump on choosing a new Supreme Court justice.
According to the survey, 48 percent of registered voters in Ohio, 51 percent in Pennsylvania and 50 percent in Nevada said they trust Biden more to do a better job nominating the next Supreme Court justice, following the vacancy left by the death of Justice Ruth Bader Ginsburg.
In comparison, 42 percent of registered voters in both Ohio and Pennsylvania, as well as 39 percent of registered voters in Nevada, said they trust Trump more to nominate a new Supreme Court justice.
The Fox News poll surveyed 907 voters in Ohio, 910 in Pennsylvania, and 911 in Nevada from September 20 to September 23. The margin of error in all three states is plus or minus 3 percentage points.
The poll's findings come as Democrats and Republicans continue to spar over who should be responsible for nominating a new Supreme Court justice.
Shortly after Ginsburg's death, Republican Senate Majority Leader Mitch McConnell said in a statement that "President Trump's nominee for this vacancy will receive a vote on the floor of the Senate." Democrats, however, have insisted that the replacement should be held after the election.
In 2016, McConnell and Lindsey Graham, chairman of the Senate Judiciary Committee, opposed then-President Barack Obama's Supreme Court nomination, following the death of Justice Antonin Scalia — the argument being that the Senate should not vote on the matter during an election year.
"The American people should have a voice in the selection of their next Supreme Court justice," McConnell said four years ago. "Therefore, this vacancy should not be filled until we have a new president."
Democrats have continued to cite both McConnell and Graham's points from 2016, to show their opposition to Trump's nomination.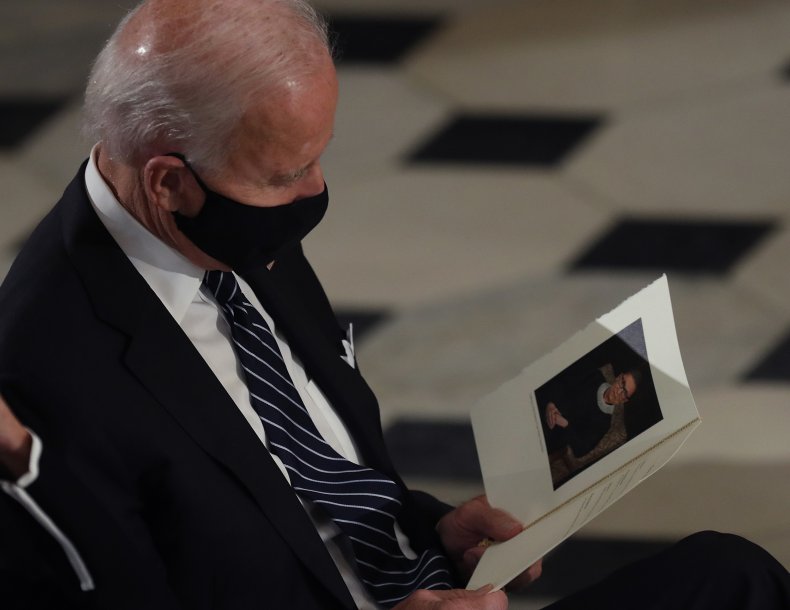 During a recent interview with Fox News @ Night, McConnell suggested that the November election is "no reason to dodge our responsibility and not go forward with a well-qualified nominee."
A separate poll, conducted by Global Strategy Group/Navigator, found a majority of Americans saying the winner of the election should have the responsibility to nominate a new justice. According to the poll, 56 percent of respondents said the winner should choose, while 36 percent disagreed and said Trump should nominate a new justice immediately.
Newsweek reached out to both Biden and Trump's campaigns for comment, but did not receive a response in time for publication.