Fox News Says Michelle Obama 'Flayed' Trump As Hosts Praise DNC Speech
Fox News hosts have raved about Michelle Obama's speech from the first night of the Democratic National Convention, with Chris Wallace declaring she had "flayed" President Donald Trump.
The former first lady used her 18-minute pre-recorded speech on Monday night to issue a stark warning—that Trump is "in over his head" and that the country's mounting woes will only worsen if he is re-elected in November.
Despite not airing the first hour of the convention, held virtually due to the coronavirus pandemic, Fox News commentators were unable to find a single criticism to direct at Obama.
Dana Perino said Obama had "stuck the landing" with her speech, which was the last and longest one on Monday night.
"It's very difficult to try to connect with an audience without an actual audience there with you, but she has the ability to connect with people through the screen," Perino said.
"When you talk about authenticity, she has it in spades. She has that voice, she has clarity, and she knows what she is out there wanting to do. She was trying to get everybody to really focus and then she had a call to action—ask for your ballot tonight. I think that the DNC, if they look over the course of the night, the first virtual convention of our history, they would say that Michelle Obama stuck the landing."
Wallace agreed. "Michelle Obama, as she said, doesn't like politics and she said that this speech was her main contribution to the Biden campaign," he said.
"It was a heck of a contribution. She really flayed, sliced and diced Donald Trump, talking about the chaos and confusion and lack of empathy, especially, coming from this president and from this White House."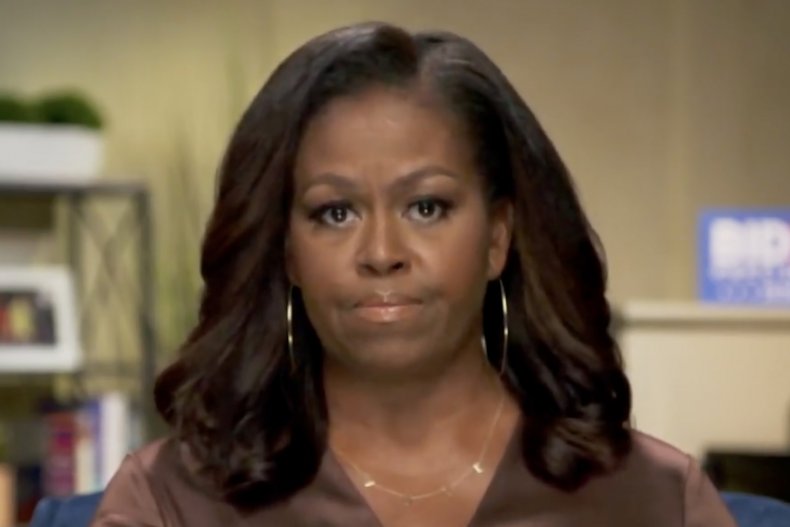 Even Fox News political analyst Brit Hume, who accused Obama of making inaccurate statements, agreed that her speech was effective.
He added: "That's what we expect in political rhetoric. That's the way you do it. So the question becomes not the actual truthfulness of the case that's made, but how effectively it's delivered, and whether the attacks are likely to have the effect on the electorate that she hopes for. I suspect in this case, probably, it did."
"You know I hate politics," Obama has said as she issued a scathing rebuke of Trump's character and record.
"If you think things possibly can't get worse, trust me, they can and they will if we don't make a change in this election," she said.
She called Trump the "wrong president for our country," saying he is incapable of doing the job.
"He has had more than enough time to prove he can do the job but he is clearly in over his head. He cannot meet this moment. He simply cannot be who we need him to be for us," she said.
"It is what it is," she added, echoing a remark Trump recently uttered when speaking about the number of coronavirus deaths in the U.S.
Wearing a necklace that spelled out the word "vote," Obama noted Trump lost the popular vote but still won the White House, and "we've all been suffering the consequences."
Four years ago at the 2016 Democratic National Convention, she had told Democrats that "when they go low, we go high."
She said that was still the way to go, but clarified: "Let's be clear. Going high does not mean putting on a smile and saying nice things when confronted by viciousness and cruelty."
Obama added: "If we have any hope of ending this chaos, we have got to vote for Joe Biden like our lives depend on it."