Fox News Is Providing 'Propaganda' for Trump Over Policy Separating Families, Claims Ex-Obama Adviser
A former adviser to President Barack Obama has slammed Fox News' coverage of the Trump administration's policy of separating undocumented families crossing the border, claiming it amounts to "propaganda."
Homeland Security Secretary Kirstjen Nielsen came out with a series of tweets over the weekend seeking to defend the Trump administration over outrage about its policy.
"This misreporting by Members, press & advocacy groups must stop," Nielsen wrote. "It is irresponsible and unproductive. As I have said many times before, if you are seeking asylum for your family, there is no reason to break the law and illegally cross between ports of entry."
She added: "We do not have a policy of separating families at the border. Period."
On Fox & Friends Monday, the tweets were presented as an attempt to "clarify" the policy. Host Steve Doocy compared the situation to children being taken away from parents who committed a bank robbery. "Just trying to separate fact from friction," he added."
Dan Pfeiffer, who was one of Obama's longest-serving advisers later posted a video of the exchange together with the comment: "The Fox propaganda gets more shameless every day."
Fox News has long been accused of parroting messages from President Donald Trump, Indeed, the network's top-rated host Sean Hannity reportedly speaks with Trump by phone regularly, to the extent that some administration officials have labeled him the "unofficial chief of staff."
In this case, Nielsen's comments are misleading. Last month, Attorney General Jeff Sessions announced a "zero tolerance" policy, in which every person crossing the border illegally would be criminally prosecuted, having the effect of children being separated from their parents. In the past, first-time offenders general faced civil procedures, meaning families could remain together while waiting for their case to be heard.
On Friday, United States officials said that close to 2,000 children had been separated from adults in six weeks between mid-April and the end of May. Multiple reports have also contradicted Nielsen's claim that asylum-seeking families are not being separated.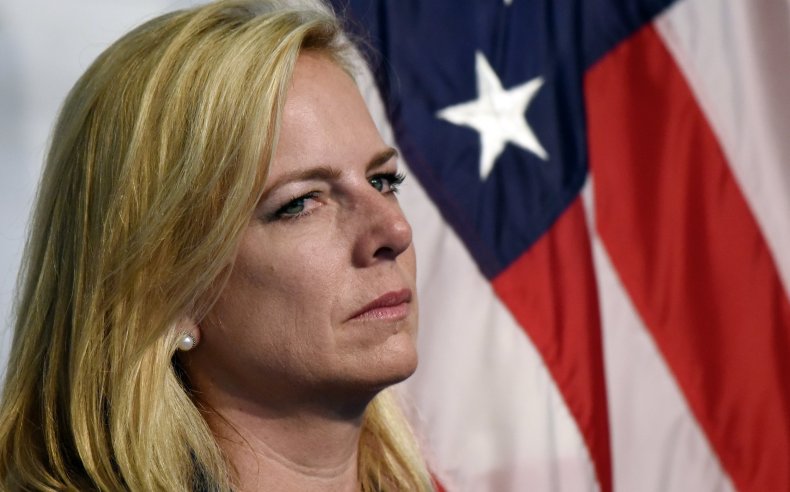 The top United Nations human rights official on Monday slammed the Trump administration's policy as "unconscionable."
"The thought that any state would seek to deter parents by inflicting such abuse on children is unconscionable. I call on the United States to immediately end the practice of forcible separation of these children," Zeid Ra'ad al-Hussein said in a speech to the U.N. Human Rights Council.