Fox News Pushes Back On Trump's Inaccurate Justification for Building a Wall
Fox News Sunday host Chris Wallace pushed back against one of President Donald Trump's major justifications for building a border wall, fact-checking White House Press Secretary Sarah Huckabee Sanders live on television.
Wallace pointed out that Trump has often argued that terrorists are entering the country illegally, using this as a reason to build the wall along the southern United States' border with Mexico. However, as Wallace pointed out, the assessment is inaccurate, as the State Department has said there is "no credible evidence" that terrorists have attempted to enter the U.S. at the southern border.
Sanders tried to push back, saying that 4,000 "known or suspect terrorists" attempt to enter the country illegally annually. But Wallace was quick to cut her off, pointing out she and the president were misrepresenting facts.
"I know this statistic, I didn't know if you were going to use it, but I studied up on this," Wallace interjected. "Do you know where those 4,000 people come, where they're captured?" he asked. "Airports," he answered his own question.
Although Sanders responded by saying: "Not always," Wallace continued, saying: "The State Department says there hasn't been any terrorists that they've found coming across the southern border from Mexico."
Sanders dismissed Wallace's assessment, arguing: "It's by air, and it's by land and it's by sea. It's all of the above." She then insisted that the "most vulnerable point of entry" to the country is the U.S.-Mexican border.
A report released by the State Department in July of 2017 clearly stated : "There are no known international terrorist organizations operating in Mexico, no evidence that any terrorist group has targeted U.S. citizens in Mexican territory, and no credible information that any member of a terrorist group has traveled through Mexico to gain access to the United States."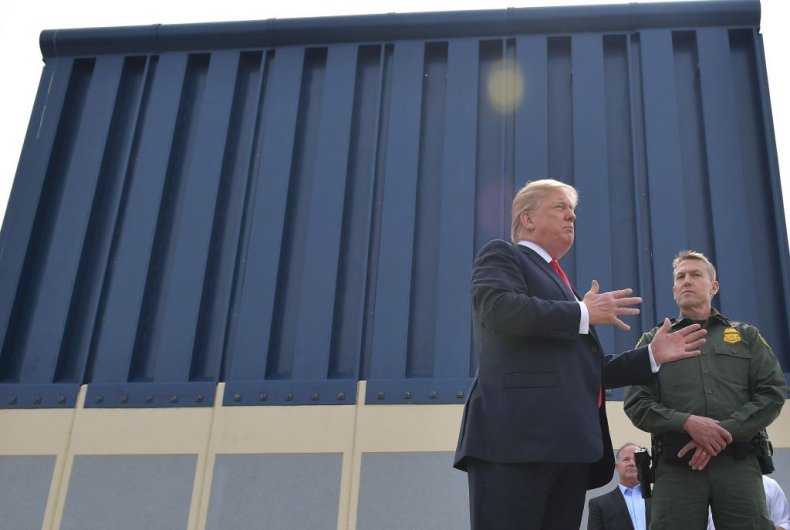 Department of Homeland Security statistics from fiscal year 2017 also showed that the vast majority of those stopped from entering the U.S. because they were on a terrorist watch list were blocked at airports, Rolling Stone reported. Additionally, as Ned Price, who served on President Barack Obama's National Security Council, told NBC News, many people are flagged simply because their name matches that of someone on the watchlist, and this does not mean they are actually that person or a terrorist. Public records from the Justice Department also show that no immigrant crossing the southern border has been detained on terrorism charges in recent years, according to NBC.
None of those facts seem to bother Trump or Sanders, who have stuck with their inaccurate justification to defend the proposed border structure.
"[Suspected terrorists are] not coming across the southern borders," Wallace tried to explain to Sanders once again on Sunday. "They're coming and being stopped at airports," he said.
She dismissed his fact check however, responding by arguing: "They're coming in a number of ways."