Fox News on Wednesday called out President Donald Trump for displaying a map of Hurricane Dorian's path that appeared to be shoddily altered to include Alabama in the storm's trajectory.
While discussing the National Weather Service's early forecasts of Hurricane Dorian's path in the Oval Office earlier today, Trump displayed a map that appeared to have been doctored with a Sharpie pen to extend the storm's trajectory to Alabama. "We got lucky in Florida, very, very lucky indeed," he told reporters. "We had actually our original chart was that it was going to be hitting Florida directly... And that would have affected a lot of other states."
After his remarks, various news outlets and cable news channels quickly moved to condemn Trump's doctored map and set the record straight, including Fox News, the president's favorite network.
"The president displayed a Hurricane forecast map. There appeared to be a change made to it. What happened?" host Bret Baier asked White House reporter John Roberts during a Fox News segment on Wednesday afternoon.
"This is a forecast track that the president held up from last week where it looked like the hurricane was going to slam into the Florida coast maybe even across the peninsula and get into the Gulf of Mexico," Roberts responded. "You can see somebody with a Sharpie or some other writing instruments added a little bit to the cone of uncertainty, which was not a part of the official forecast, which included the Florida panhandle and parts of Alabama."
Roberts went on to note that Trump "had tweeted over the weekend that Alabama appeared to be in the crosshairs and you can probably extrapolate that if it had continued on that track, Alabama might have been affected."
"But it was never part of the official forecast," he admitted.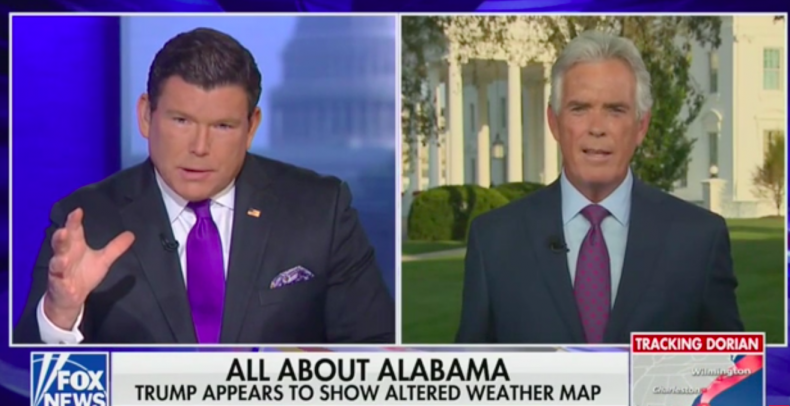 Earlier today, Newsweek reviewed the National Weather Services' Dorian forecasts and confirmed that the haphazardly-drawn circle linking the storm's path to Alabama does not appear in any of the agencies official projections.
When asked by a reporter whether he drew the extension on with a Sharpie, Trump replied, "I don't know, I don't know."
Fox News' Juan Williams, whom the president has repeatedly criticized over the past few months, strongly rebuked Trump's seemingly altered map during a discussion on The Five. "I'll tell you what concerned me," the Fox News personality said, "the idea that the president of the United States, someone we are supposed to trust to give us accurate information when lives are at stake, is using his Sharpie to extend the reach of this storm to Alabama so that he's not wrong in what he was saying a week ago."
Trump's remarks and the altered map comes after the president tweeted a Hurricane Dorian Warning on Sunday, alleging that Florida, North Carolina, South Carolina, Georgia and Alabama were all states in the impending storm's path. The National Weather Service quickly moved to refute the president's claim and assured residents in Alabama that they would not be affected by the storm.